Joden Girl
Baubles, Bling and Insider Information
Meet Kayla- at just 34 years old, she is the youngest member of the Joden crew.  Recommended by another employee, she joined us three years ago and it's been full speed ahead ever since.  In addition to taking care of customers, Kayla heads up our advertising department.  Working closely with Joe and Jay, she puts together our billboards and magazine ads.  Most recently, she tackled her largest project to date…  a new brochure.  Dubbing it her biggest accomplishment, Kayla has thoroughly enjoyed the process.  And what a process it is!  Every piece featured in our full-color double-sided brochure is hand-selected, professionally photographed, and edited.  Using an old-school "cut and paste" method, each of the eight pages is carefully assembled.  Just last week, Kayla and Bryan (Owner of GFX Advertising) put the final touches on this project.  We can't wait to see it in print later this fall!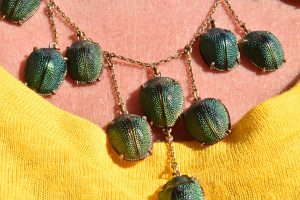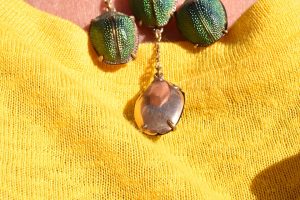 Very early on, Kayla discovered a love of authentic antique scarab jewelry.  These are not carved stones, but actual petrified beetles.  Captured in their natural form, these colorful creatures were often preserved by making them into jewelry.  The Joden inventory boasts more than one of these unusual pieces…  Kayla is shown here wearing a rare scarab fringe necklace and coordinating bracelet.  Each of the sixteen bugs in the necklace is fitted to a golden frame.  It provides strength to these otherwise delicate carcasses.  Priced at just $3,000.00 – customers love this unique find.  Recently, we acquired a similar bracelet… this simple line style bit of arm candy is set with eight scarabs, each one with closed back construction.  Made from 15-karat yellow gold, it's available for $1,950.00.  
If you're as fascinated by scarab jewelry as Kayla is, these simple pendants are just a click away.  Originally part of a long necklace, each iridescent green beetle is nestled within a gold-filled frame.  We separated them and added a gold-filled chain.  Available in 16 or 18-inch lengths, these beauties are available on our site for just $185.00.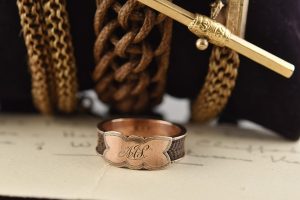 Although she loves the scarab jewelry, Kayla's least favorite pieces are the Victorian hair jewelry.  Whether it be a mourning ring, brooch, necklace or bracelet…  these late 19th century finds feature actual human hair.  Mourning jewelry from the Victorian era honored loved ones that had passed on in a beautifully permanent way.  People either love these peculiar pieces or they're creeped out by them…  Kayla falls into the latter category.  
The pieces showcased here among the most unusual in our antique and estate department.  There are thousands of jewels from every era including Georgian, Victorian, Art Nouveau, Edwardian, Art Deco, Retro, Mid-Century and Modern.  Discovering and learning about them is one of Kayla's favorite parts of working at Joden. 
Stop by our store, check out these unique finds and say "Hi!" to Kayla.  And if you're feeling mischievous, flip off the lights…  Kayla is afraid of the dark!  
"You can go to a museum and look, or come to us and touch."
Written by Carrie Martin
Photos by Dana Jerpe