Joden Girl
Baubles, Bling, and A Collector's Things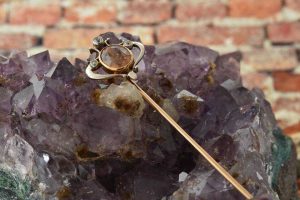 Joe's Special Box is a haven for all sorts of treasures – rings, pendants, bracelets, and even a few stick pins.  You may be wondering "What's so special about a stick pin?  Who wears them?"  Let me answer that question for you…  men wear them!  A stick pin is an ideal tie tack, in fact, that's what they were originally created for!  
At Joden, we have trays full of them, including this lovely Edwardian ornament.  Platinum and gold showcase the Orange Zircon center to perfection.  The addition of three small round diamonds convey a subtle touch of sparkle.   Jazz up those boring old ties with some vintage pizzazz!
You can go to a museum and look or come to Joden and touch.
Written by Carrie Martin
Photos by Shelly Isacco