Joden Girl
Baubles, Bling, and A Collector's Things
Vintage diamond engagement rings are always in demand at Joden.  One of the things we hear most often is "I don't want a ring that looks like everyone else's."  Our customers crave uniqueness and individuality.  Pieces made during the Edwardian and Art Deco periods offer just that…  quality with distinction, real style.  Often times, these little beauties never make it past Joe's Special Box.  He scoops them up because he also knows their value and rarity.  It's becoming more and more difficult to find these rings.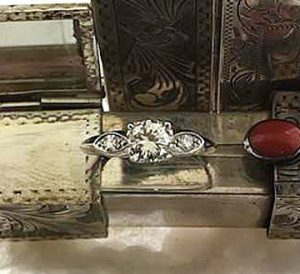 Earlier this week, I found this gem tucked into a tray of new purchases in Joe's office.  Coincidentally, this is exactly how I stumbled upon my own engagement ring nearly twenty years ago.  It was just laying on a tray in the office…  waiting for me.  After all these years, I love my ring just as much as I did the day I got it.  Here's my ring and wedding band…  and also another picture of this week's featured piece.  Alot of similarities there, right?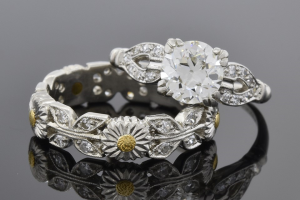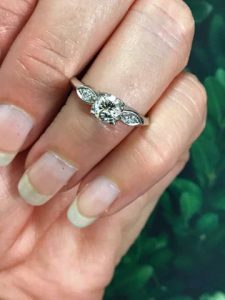 Made entirely of platinum at the end of the Art Deco period, this sweet little ring caught my eye immediately!  I love the simplistic three-stone appeal of it.  Set with a .66 carat round diamond in the center, and flanked by a pair of single cut diamonds, it's timeless perfection – priced at $3,500.00.
Just as my ring was waiting for me. this engaging enchantress is at Joden – waiting for you.
"You can go to a museum and look, or come to Joden and touch."
Photos and writing by Carrie Martin