Joden Girl
Baubles, Bling, and A Collector's Things
Imagine my excitement when I discovered that January 28th is a celebration of my favorite flower – it's Daisy Day!  The name daisy means "day's eye" and refers to the fact that this simple blossom closes its petals and night and blooms during the day.  In Victorian times, these yellow and white beauties were known to represent loyalty and trust.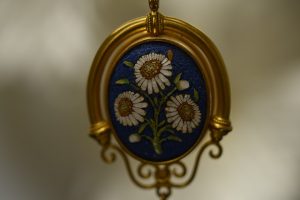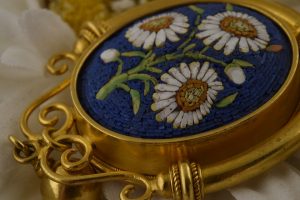 Over the years we have had many bits and baubles that incorporated daisies into their design, but this late Victorian/early Art Nouveau pendant is truly something special.  A 22 karat gold frame encapsulates a stunning micro mosaic bouquet.  A bold blue background provides the ideal setting for the stark white petals and golden yellow centers of this floral trio.  The craftsmanship is exquisite, it's priced at $4,500.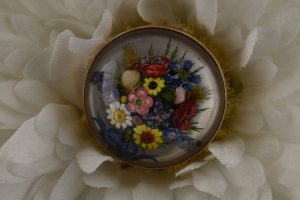 This irresistible brooch captured my heart as well.  Bursting with botanical beauty, this Essex crystal is an explosion of joy.  Sometimes called a reverse intaglio painting, these unique pieces are hand-crafted by carving an image into the back of a rock crystal.  The image is then painted, creating a three-dimensional illusion.  This wildflower bouquet (tied with a blue bow) has a bit of everything, including one little daisy.  Make it yours for just $1,750.
What is a better way to celebrate Daisy Day than with a fabulous piece of vintage jewelry from Joden?  
" You can go to a museum and look, or come to us and touch."
Written by Carrie Martin
Photos by Dana Jerpe