Joden Girl
Baubles, Bling, and Art Deco Things
The end of WWI in 1918 brought with it an air of post-war enthusiasm.  Economic prosperity resulted in opulence for every day life.  Nothing, it seemed, was exempt.  Even a simple trip to town was an opportunity to add a bit of glitz.  Women broke away from the corsets and gowns of the Victorian age in favor of drop-waisted numbers with raised hem lines and a loose fit. "Too much" was a foreign concept…  there were accessories for your accessories!  Diamond brooches were pinned to hats, belts, and shoes.  "Over the top" became the norm.
Artistic freedom paved the way for what was perhaps the greatest period in jewelry history…  Art Deco!  The 1920's and 30's was a veritable explosion of innovation.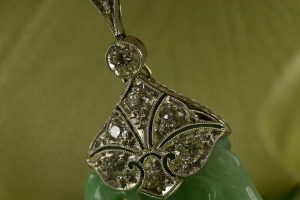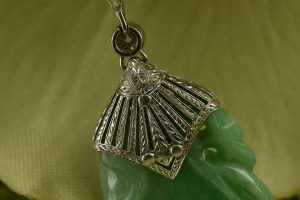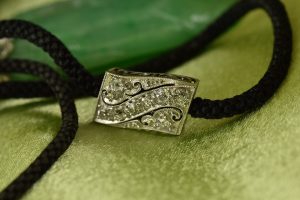 This carved jadeite pendant is the epitome of 1920's glam.  A lustrous specimen of apple green jade has been shaped, pierced, and polished to a shine.  It is suspended from a woven black cord using a trio of platinum diamond accented trim.  Over thirty inches long, the jade pendant rests below the bust line – an ideal length for the simplistic dresses worn by flappers.  This is perhaps the most rare type of jadeite, natural with no indication of impregnation (a treatment commonly used to improve the color of jade).  Priced at $5,500 and certified by the Gemological Institute of America, this gem is a real showstopper.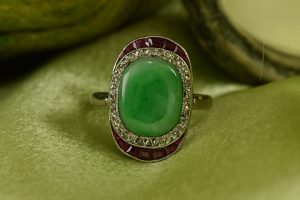 Pair it with this ring for the ultimate in Art Deco elegance.  Crafted entirely of platinum, this ring centers on a beautifully marbled cushion shaped piece of jadeite.  A halo of thirty-eight rose cut diamonds encircle the center, bringing an element of sparkle.  The northern and southern tips of the piece are further accentuated by an arch of vivid red fancy cut rubies.  Renowned jewelry blogger Danielle Miele has dubbed it her "most favorite ring that Joden currently has in stock".  Priced at $4,750.00 this ring is just too good to miss.
With the holidays just around the corner, it's never too early to do a little shopping whether it's for yourself or someone else.  Art Deco jewels from Joden are sure to be at the top of every girl's list!  
Santa can go to a museum and look, or come to Joden and touch! 
Written by Carrie Martin
Photos by Dana Jerpe