Joden Girl
Baubles, Bling and  Musical Things
Ah, Valentine's Day… it always evokes images of Cupid, hearts, and all things pink and red.  It's my favorite holiday – what could be better than a day devoted to love?  From small children to adults, everyone can enjoy Valentine's Day.  Cards will be exchanged, flowers given, candies devoured…  all in the name of love.
As soon as I laid my eyes on this turn of the century brooch, I knew it was the perfect piece for today.  Made entirely of 18 karat yellow gold, the simplistic yet charming appeal is undeniable.  It's a horn, but not an ordinary one…  it's an early form, known as a hunting horn.  This melodious instrument was used to signal every aspect of a hunt, from the Moving Off call (marking the beginning) to the Blowing for Home (indicating the end) and everything in between.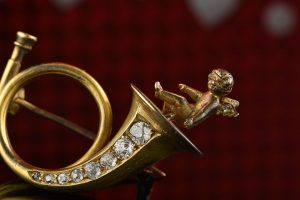 The flared bell of the horn features a series of eight Old European Cut diamonds, each one handset with four prongs.  Totaling approximately .50 carat, these beauties add an element of sparkle to this otherwise spartan horn.  Like its real-life counterpart, the instrument is made from a single piece of tubing wrapped in a coil with a wide bell at the end.  The circular hoop shape lent itself to be easily slung over the shoulder while not in use.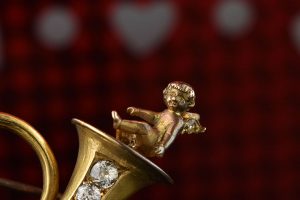 Perhaps you noticed the miniature cherub seated atop the end of the horn?  This Cupid-like figure beams from his post, lounging back with playful abandon.  His golden curls add to his boyish charm, and one tiny diamond winks from within the delicate curve of his wing.  The wings are often thought to symbolize how flighty lovers can be while Cupid's youthful appearance is believed to demonstrate that love is irrational (just like a young boy).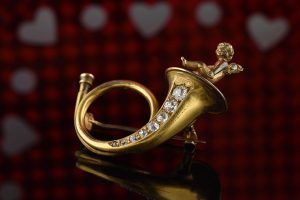 Priced at $1,650.00, this Art Nouveau beauty is ideal for Valentine's Day.  This and so much more is available online and in our 144 South Broad Street location.  Not to toot our own horn, but our inventory boasts something for everyone.  You won't be disappointed.  Visit our showroom and make this gem yours today.
"You can go to a museum and look or come to Joden and touch."
Written by Carrie Martin
Photos by Dana Jerpe