Joden Girl
Baubles, Bling, and Amazing Things
Forget sapphires, emeralds, and rubies… get a load of these showstoppers!  Four rings with an incredibly rare center stone.  With colors ranging from a warm honey tone to a vivid yellow green, these beauties are sure to dazzle.  Perhaps you've taken note of the white stripe across the center of each one?  This is known as chatoyancy, and occurs when the stone is introduced to a direct beam of light.  As you may have guessed, it's more commonly known as the "cat's eye effect".  Other gems exhibit this amazing wonder, but none as distinct as Chrysoberyl.  It's only found in a few places around the world, and is a favorite of gemstone lovers everywhere.  Ladies and gentleman, I present to you the Cat's Eye Chrysoberyl.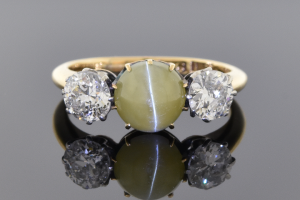 Named after the one thing that it so clearly resembles, the Cat's Eye Chrysoberyl is as lovely as it is extraordinary.  The simplicity of this 18 karat yellow gold three stone ring allows the round cabochon gemstone to truly shine.  When the ring is turned from side to side, the eye glides across the surface.  Two Old European Cut diamonds flank the Cat's Eye, amping up the shine of this ravishing ring.  For additional details, check it out on our site.
If you prefer a ring that makes a bold statement, choose one of these unisex pieces.  The first ring is made from 18 karat yellow gold and features two rows of five round brilliant diamonds each – these ten stones have a combined weight of .25 carats.  This piece is available in our showroom for $5500.00.  The second ring, made from a striking combination of 14 karat yellow gold and platinum, highlights a 12.00 carat Cat's Eye.  The eye of the stone runs left to right, perpendicular to the finger.  Whether worn on a woman's index finger or a man's pinky – this is a strong look that won't be ignored.  For additional photos and pricing, follow the links to our site.  
The phenomena of nature…  it's awe-inspiring.  Shown here, in all its glory, Cat's Eye Chrysoberyl is a stone that is as beautiful as it is rare…  like so many of the jewels and gems available exclusively at Joden.  Our store IS the cat's meow!
"Go to our site and look, then come to us and touch."
Written by Carrie Martin
Photos by Dana Jerpe