Joden Girl
Baubles, Bling and the Latest Things
I'm a sucker for a three-stone ring.  I love everything about them, from the simplistic yet classic design to the deeply-rooted symbolism.  For more than two hundred years, this style has captured hearts.  However, in 2001, with a little bit of marketing genius, De Beers turned this popular configuration into a worldwide phenomenon.  
"One stone for our past, one for the present, and one for our future."
Those fourteen words spoke volumes.  One sentence payed homage to where the two of you have been, celebrated where you are and embraced where you're going.  Who wouldn't love that?  Most of these rings showcased three diamonds with the center stone being larger than the two side stones.  Occasionally, colored stones were added to change up the look, but the symbolism remained the same.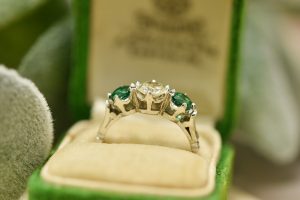 Featuring English hallmarks, this charming ring is the latest addition to our estate department.  One round diamond sits proudly in the center – it weighs approximately .65 carat.  It is flanked with a glorious pair of vibrant green emeralds.  Together they have a total weight of .64 carat.  By nature, emeralds are often pale in color with eye visible inclusions.  These gems are fine quality, displaying a deeply saturated kelly green hue with minimal inclusions. 
Although the ring is petite in size, the bright color palette gives it a strong presence on the hand.  Emeralds are said to bring peace, harmony and domestic bliss.  It's an ideal choice to pair with the strong symbolism of the three stone ring.  Both of these sentiments make it a perfect choice for an anniversary or even an engagement ring.  Completing the look are three tiny diamonds nestled into each shoulder.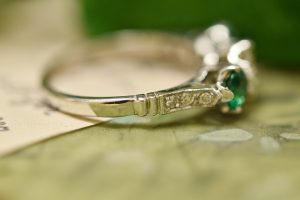 Emeralds are predicted to be THE engagement stone of 2023.  Though I cringe a bit at the thought of wearing emeralds during day to day life…  I can't help but admit that the romantic meaning is appealing.  If this three-stone is calling your name, hop on over to our website for more photos and additional details.  Priced at just $2,475.00, it's available now.  
"You can go to a museum and look or come to us and touch."
Written by Carrie Martin
Photos by Dana Jerpe