Joden Girl
Baubles, Bling and Rejuvenating Things
Art Nouveau has often been described as a celebration of the woman in nature.  It is an unmistakable style noted by long flowing lines (often referred to as whiplash lines).  The curvaceous female form with flowing locks of hair was perhaps the most obvious use of these sinewy shapes.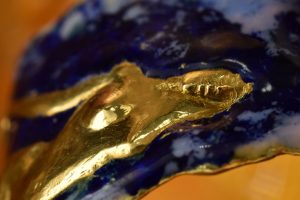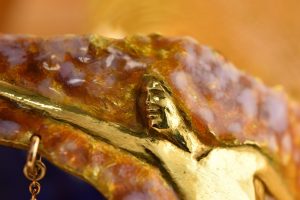 Popular from 1890-1910, Art Nouveau jewelry was predominantly yellow gold featuring multicolored enamel; anything from a subtle pink blush to a bright and bold kaleidoscope explosion of hues.  At first glance, I thought this dazzling cuff was an original antique example.  However, closer inspection revealed that it was actually a revival, a reawakening.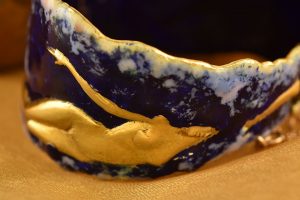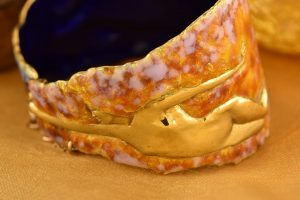 A series of hallmarks sit center stage in a vertical line atop the hinge..  there are seven in all:
D   L   W   R   18K   78   1/1
The 18K is self-explanatory – this beauty is completely constructed from a rich 18 karat yellow gold.  I believe the 78 indicates that the bracelet was made in 1978 while the 1/1 most likely reveals that this remarkable piece is the only one ever made.  I have exhausted myself trying to uncover what those letters might mean…  to no avail.  The most sensible answer is that these represent the artist and perhaps the recipient.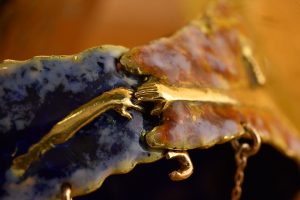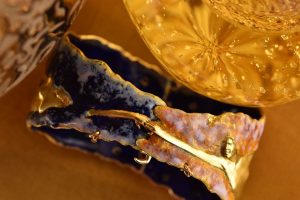 Lustrous cobalt blue enamel covers the entire inside of the cuff while the edges present an irregular scalloped pattern with an underlying peep of gold showing through.  Flanking the hinge are six abstract birds, each with a singular diamond burnished within.  The two bodies stretch out at leisure…  one seeming to bask in the light of the summer sun while the other appears to bathe in silvery moonlight.  Turning the bracelet over reveals my favorite detail, these clasped hands.  
Priced at $7,900, this bracelet is unique.  It's a statement piece, making a bold declaration on the wrist of the wearer.  Joden is known for jewelry of distinction.  Don't just take my word for it, come see for yourself. 
"You can go to a museum and look, or come to us and touch."
Written by Carrie Martin
Photos by Dana Jerpe