Joden Girl
Baubles, Bling, and A Collector's Things
February 22, 1732 is George Washington's birthday.  Perhaps the most recognized politician, he was our first President; he served two terms from 1789-1797.  A prominent military man, Washington is considered by many to be the father of the United States.  
Americans began celebrating the life and work of George Washington in 1885, recognizing his birthday as a federal holiday.  Our nations capital is named for him as well as at least three universities.  He appears on Mount Rushmore, the $1 bill and the quarter dollar coin.  
In 1971, the celebration was moved to the third Monday of February and became known as President's Day, allowing us to honor not only George Washington but all the remarkable men who have served our great country.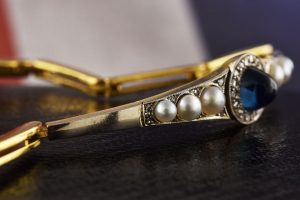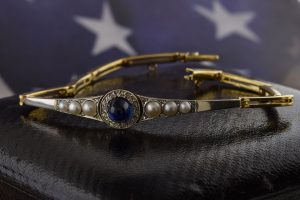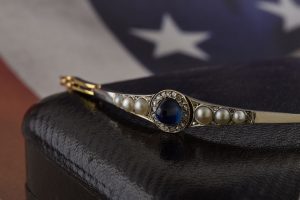 We are commemorating this momentous day with a stunning Edwardian bracelet.  A conical cabochon sapphire sits center stage in this early 1900's gem.  The rich blue tone of the stone is accentuated by a rose cut diamond halo that completely surrounds it.  Six natural pearls cascade from the center down each shoulder.  In classic Edwardian style, the bracelet is constructed from an 18 karat yellow gold base with a layer of platinum on top giving it time-honored appeal.  
The quality and craftsmanship of this bracelet are superb.  In pristine condition, and priced at $3,250, it's the perfect accessory for President's Day. 
"You can go to a museum and look or come to us and touch."
Written by Carrie Martin
Photos by Dana Jerpe