Joden Girl
Baubles, Bling, and A Collector's Things
"Bubble gum, bubble gum in a dish!  How many  pieces do you wish?"  Did you chant those words?  I know I did!  As for the question:  How many pieces do I wish?  Today, the answer is just one…  this ring.  
Sometimes, jewelry should just be fun and bring a smile to your face when you wear it.  This is that type of ring.  It's vibrant and variegated featuring twenty-five multicolored round sapphires.  With shades of pink, yellow, green, blue, and purple, it evokes joy (and really does remind me of bubble gum)! 
The ring is wide, with three rows of stones.  Each one is nestled deep within a cup-style setting.  Yellow gold, the color of sunshine, brings additional  warmth to the sapphires, making them glow with a rainbow of color.  No other metal would have had the same effect – I love it!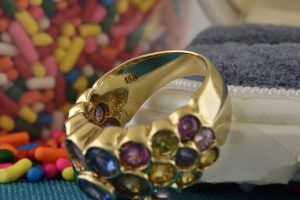 This playful piece is an unusual find in Joe's Special Box, probably another reason why it caught my eye.  In a sea of vintage gems, this modern marvel stands alone.  Priced at $1500, this splash of color is a little bit of happiness on an otherwise dreary day.
"You can go to a museum and look, or come to us and touch."
Written by Carrie Martin
Photos by Dana Jerpe