Joden Girl
Baubles, Bling, and Right Hand Rings
Simply put, a right hand ring is any ring worn on your right hand…  but the symbolism can be so much more.  There have been many slogans associated with right hand rings, two of the most memorable ones include "Me, not we" and "Raise your Right Hand."  Both statements honor strong, independent, and successful women.  I consider myself to be all of those things. 
The thing I am most proud of  is my family.  Every day  I am a wife, a mother, a daughter, a sister, and an aunt.  I am also an employee, a co-worker, and a friend…  the list goes on.  In the hustle and bustle of every day life, it's easy to forget who I am outside of these other identities.  Often times, your own needs are last on the list.   A right hand ring is a constant reminder.  It doesn't say "Me, first," but rather "Me, too."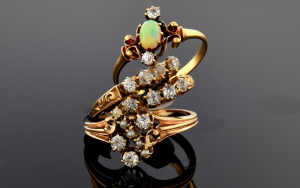 This photo features three Victorian rings, any of which would make a perfect right hand ring.  Set with opals, seed pearls, and vintage cut diamonds – these rings are all moderately priced under $500.00. 
These two rings are available on our site.  The first ring, constructed of 14 karat yellow gold, contains seven diamonds that weigh .25 carats and sells for $675.00.  The second piece contains a striking pair of fiery opals cut in cabochon style.  These two stones are further accented by three center diamonds.  It can be yours for just $1800.00. 
Check out these beauties and many others in our showroom at Joden Jewelers.  Find a right hand ring that speaks to you, and about you.  Find a ring that says "Me, too."
"Go to our site and look, then come to Joden and touch."
Written by Carrie Martin
Photos by Carla Leight and Shelly Isacco