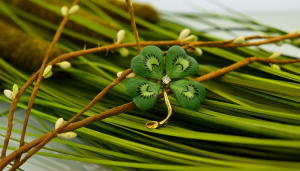 Joden Girl
Baubles, Bling, and Irish Things
Yesterday, people everywhere donned green shirts, green socks, even headbands with shamrocks bouncing on top.    Merrymaking ranged from parades to religious observances.  Even the Lenten fast has been known to be lifted in honor of  the day.  Perhaps you are also participated in the joviality of St. Patrick's Day. 
Millions of green beers were raised in celebration of the heritage and history of Ireland.  St. Patrick's Day is celebrated in more countries than any other national festival. 
The shamrock became the symbol for this day when St. Patrick arrived in Ireland to share Christianity with the Irish people.  He used a young sprig of clover to explain the Holy Trinity.  The three leaves are also thought to symbolize faith, hope, and love. 
Occasionally, a clover will have a fourth leaf…  for luck.  The luck of the Irish. 
At Joden we have shamrocks with three leaves, and some with four.  These are just a few examples.  Be sure to stop by our showroom to see these little green beauties.  Until then…
May you always find blue skies above your head,
Shamrocks beneath your feet,
Laughter and joy aplenty,
Kindness from all you meet,
Good friends and kin to miss you if ever you choose to roam,
And a path that's been cleared by angels themselves
To carry you safely home.
– An Irish Blessing
Written by Carrie Martin
Photos by Carla Leight