Joden Girl
Baubles, Bling and the Latest Things
Storage.  Although it seems silly, adequate storage is an essential element of a well-organized, happy and healthy life.  There are entire companies dedicated to storage – some address it from an efficiency standpoint while others prefer an aesthetic approach.  Banks have vaults; houses and hotels are often equipped with safes.  Potential home buyers and realtors alike spend countless hours comparing the amount, size and location of every closet, cabinet and cubby within each dwelling.  Our clothes have pockets.  We also have handbags, backpacks, wallets, fanny packs and luggage.  Our vehicles are fitted with cargo space, trunks, consoles and glove compartments.  Even some jewelry offers storage space…  poison rings, lachrymatories and of course…  lockets.  
With two encased pockets, this locket is capable of holding photos, a handwritten sentiment or a lock of hair.  This 14-karat yellow gold beauty was made near the end of the 1800's in the Art Nouveau era.  Polished to a rosy glow, it features an enameled periwinkle Vinca flower on the front side.  One pearl is nestled in the center of the five petals and a second pearl marks a fresh bud.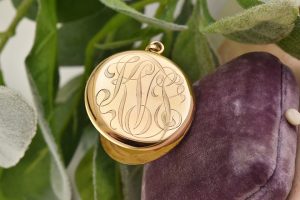 The back side of the locket has been hand-engraved with a beautiful entwined monogram…  the initials are VKS.  Each of the inner chambers is complete with the framed protective cover.  Larger than a quarter, this locket is ideally sized and perfect for photographs.  Preserve a snapshot of your spouse, partner, child, parents, or fur-baby within this golden case.  Perfectly priced at just $1,175.00 – this latest addition to our antique jewelry department is exactly the kind of storage you need in your life.  Call us today to make it yours.
"You can go to a museum and look, or come to us and touch."
Written by Carrie Martin
Photos by Dana Jerpe