Joden Girl
Baubles, Bling, and A Collector's Things
With the Christmas holiday all wrapped up, at Joden, we have already turned our attention to 2019.  As I was searching through Joe's Special Box to find the perfect piece for this week, I kept coming back to this pair of golden beauties.  With Valentine's Day only weeks away – these sweet little heart rings are sure to please.  
The first ring is made from a rich 22 karat gold and features a duo of flower blossoms on a delicately textured background.  Leaves and vines trail down each shoulder adding to the natural appeal of the piece.  Yellow gold has made a strong comeback in the last year, and this ring would be a great statement piece for anyone's jewelry wardrobe – it's modestly priced at $640.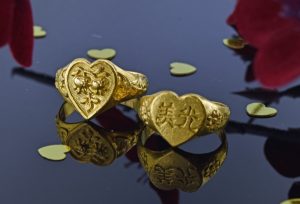 The second ring (shown on the right above) is made from pure 24 karat gold.  The warm buttery gold piece features the words "beautiful light" in Japanese.  Etched into each shoulder is an eight-petaled flower, a subtle yet much needed detail…  priced at $750. 
The allure of high karat gold was undeniable in 2018 – and 2019 promises to be even stronger.  Our selection of karat gold jewelry is vast and varied.  Get a head start on your Valentine's Day shopping with a sweetheart of a ring available exclusively at Joden Jewelers.  
"You can go to a museum and look, or come to Joden and touch."
Writing and Photos by Carrie Martin