Joden Girl
Baubles, Bling, and Azure Things
This is the first week of the new year!  Social Media is alight with well wishes, celebratory photos, and resolutions for 2019.  Without fail, the end of December (and my tendency to over-indulge during the holiday season) has me vowing to start fresh in January.  I promise myself annually that I will eat healthy and exercise…  low carbs and yoga!  2018 has been no exception.  My co-workers and I actually joked about having an office wide "Biggest Loser" competition.  Do you, too, make these pledges?  Unfortunately, every year I get off track, life gets busy, and I break the pact I made with myself.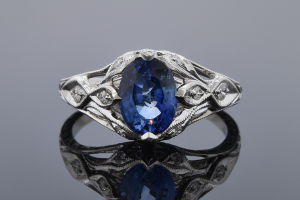 Perhaps what I (any maybe you) need is a visual reminder…  a little sparkle of incentive.  What better source of motivation is there than a sapphire ring?  In times past, the rich blue gem was thought to be a symbol of wisdom, virtue, and good fortune.  I am certain that this is the secret to achieving my New Year's Resolutions!
Art Deco influence abounds in this 18 karat white gold Beverley K Design.  A 2.02 carat oval sapphire is the crowning glory of this vintage inspired beauty.  Milgrain beading outlines a pattern of marquise-shaped leaves, each one accented by a single round brilliant diamond.  The shank of the ring features a deeply etched pattern, completing the look.  Isn't this the perfect inspiration for all of your 2019 goals?  $5500 seems a small price to pay for a year of success!  😉
Don't hesitate!  Go to our site and look, then come to Joden and touch. 
Written by Carrie Martin
Photos by Shelly Isacco