Joden Girl
Baubles, Bling and Deep Sea Things
What is that attracts you to a particular gemstone?  Is it the perfectly transparent and colorless brilliance of a diamond that pulls you in?  Or perhaps its the luminous azure depths of a sapphire that tickle your fancy?  While each faceted gemstone has legions of fans, there is another stone that is attracting sophisticated clients with it's quiet appeal.  Drawn to the unusual and unique – these buyers have found a new favorite in the orange-red tone of coral.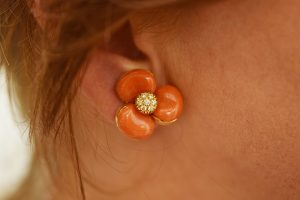 Whether it be sculpted into softly rounded cabochons or carved into delicate roses, the vintage charm of coral jewelry from the 1970's has reached a new peak in popularity.  This organic gem has an allure all it's own, but when combined with the Mid Century Modern vintage vibe – coral is quite compelling.  Whether it be the soft pale shades of angel skin or the deep red branches of the raw form, it's a very wearable gem.  Classy and chic, coral is refined without being overdone.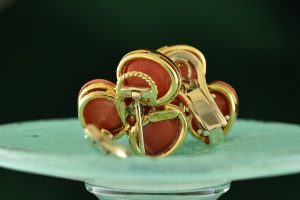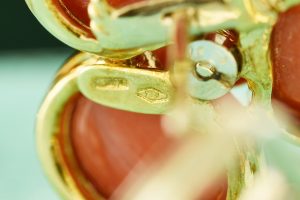 These earrings are practically perfect in every way.  They feature a strong framework made from 18 karat yellow gold.  It cradles three beautifully sculpted coral petals that create a lifelike flower.  Nestled into the heart of the blossom is a small round pistil pavé set with round brilliant diamonds.  There are fourteen diamonds in all with a combined weight of .50 carat.  Bright and sparkling, they provide a dazzling contrast to the glossy surface of the coral.  The posts of these earrings fold away, enabling them to be worn on pierced or non-pierced ears, a clever innovation that I love.  
Many of the natural coral reefs have been over-harvested and damaged by pollution – some varieties are now extinct.  This has added to the attraction of older pieces.  The rarity of the material has increased the collectability of jewelry like this.  Moderately priced at $2,900.00 – these stylish earrings will add Mid Century flair and chic sophistication to any wardrobe.
"You can go to a museum and look, or come to us and touch."
Written by Carrie Martin
Photos by Dana Jerpe