Joden Girl
Baubles, Bling, and A Collector's Things
Not every treasure at Joden is antique.  In fact, many of my favorite pieces are estate.  In the simplest of terms, estate means that something is pre-owned.  I prefer to think of it as "pre-loved".  As hard as it is to imagine, pieces from the 1980's are already almost 40 years old. 
This sweet little ring from Joe's Special Box is a perfect choice for a first ring.  Centering on three diagonal lines, the open work design of the ring is lovely.  Made of 14 karat yellow gold, it holds five stones.  Three of these gems are round brilliant diamonds that have a total weight of just .10 carat.  A pair of round opals flank the center diamond, one above and one below.  Opal is one of the most popular gemstones at Joden, and it's the birthstone for October!  Customers are drawn to the unique multi-colored fire that lives inside each one.  Much like snowflakes, no two are exactly the same.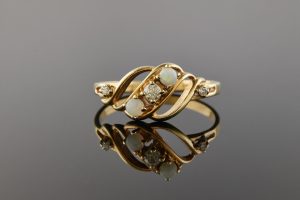 This dainty darling is comfortable and easy to wear.  It slides over the knuckle with ease, sitting pretty at the base of the finger.   A simple turn of the hand showcases the subtle sparkle of the diamonds as well as the pops of pink and green flashing from both opals.  Priced at just $365.00, this ring is scheduled to be a new arrival on our website.  Be sure to check our site later this week for additional details.
"You can go to a museum and look, or come to us and touch."
Written by Carrie Martin
Photos by Dana Jerpe