Joden Girl
Baubles, Bling and Victorian Things
If you've visited our showroom or perused our website, you know the kind of things we have.  Our store has been described as an encounter that transcends time with a collection that allows you to explore the beauty of past generations.  After nearly fifty-three years, our motto continues to hold true…
"You can go to a museum and look, or come to us and touch."
Although we are rooted within this exceptional selection – it can still be difficult to describe.  It's a challenge to put words to the artistry and beauty within each piece.  And yet, each week, I strive to do just that.  Luckily, I don't have to take the photos… what Dana is able to accomplish with a simple iPhone or with our camera is absolutely amazing.  Her photos motivate me to provide the words…  I'm a writer, a wordsmith, a story-teller – perhaps even a fledgling artist.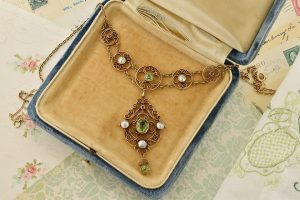 This entry marks the 577th blog…  counting thousands, even millions of words.  Occasionally, I experience writers block.  No matter how hard I bang my head against the proverbial wall – my brain and fingers don't want to cooperate.  Seeking a spark of illumination, I showed this week's selection to my coworkers.  They are my cohorts and partners in crime; collectively known as "the girls".  I asked each of them to tell me what their favorite part of the necklace was.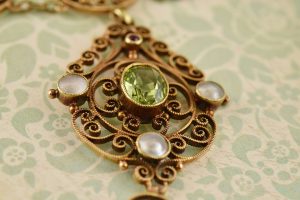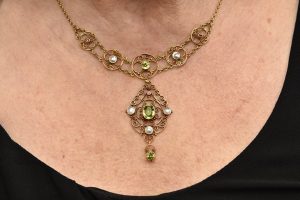 Dana referenced the stone combination of peridot and pearl…  stating that the color pairing of the spring green and luminous white is one of her favorites.  Showcased within this Mid-Victorian layout necklace are three natural peridot: one round, one oval and one cushion.  Their chartreuse shade is perfectly accented by the 15-karat yellow gold bezel that encapsulates each one.  These stones are interspersed with five small blister pearls (a hollow pearl cut from the shell of an oyster).  Chiming in, Debbie mentioned that she too was charmed by the classic color combination.  On a side note, she cited the overall shape of the piece…  it's curvaceous lines draw the eye.  As a master bench jeweler, she looks at things from a different perspective, making her input even more interesting.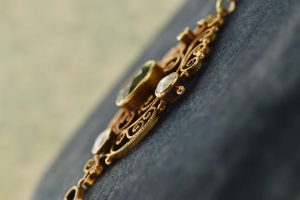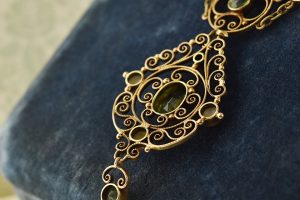 Amy and Beverly both admired the fine wirework and Etruscan swirls.  Even when viewed from behind, the complex pattern achieved by alternating singular c-shaped wires, soft curls, complete circles and tiny dots is truly incredible.  I love each of those things – I love how the necklace lays on the neck like a dream.  I love that it's in near perfect original condition.  But my absolute favorite detail…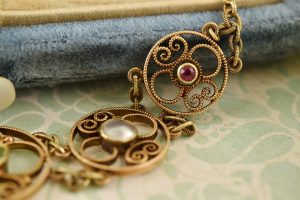 This tiny pop of pink!  There are three small natural rubies hidden within the golden swirls.  If you don't look closely you might miss them.  It's these particulars, the fine points that are the icing on the cake.  Made in the 19th century near 1875, this necklace is available for $5,950.00.  Now it's your turn!  Join the girls and share your thoughts.  What is your favorite part of this antique enchantress?  Like Dana, is it the color?  Or maybe you agree with Debbie and enjoy the overall shape?  Or perhaps you're part of team Beverly/Amy and are crazy for the original golden wirework?  Hop on over to our Facebook and Instagram stories and cast your vote now!
Written by Carrie Martin
Photos by Dana Jerpe