Joden Girl
Baubles, Bling and the Latest Things
It's personal.  Speaking volumes about each of us, jewelry is quite revealing.  We all know what rings on the third finger of the left hand signify.  But what about family rings, personalized name-plate pendants and charms?  So much can be gleaned from simply checking out someone's chosen accessories. 
Individual style, favorite colors and even the wearers mood can be discerned.  This weeks find is colorful and playful.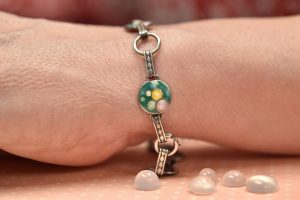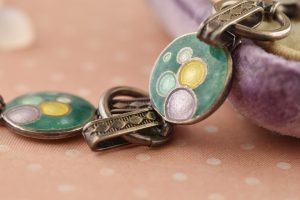 Whoever wears this silver gem knows that jewelry doesn't have to be serious…  sometimes it's just for fun!  Made in the 1940's, this silver bracelet is comprised of three different links – open rings, engraved rectangles and enameled circles.  Showcasing an overall geometric theme – the rectangular links highlight a backdrop of parallel lines overlaid with a series of east-west oriented diamond shapes.  A deep patina has settled into the recesses bringing the design to life.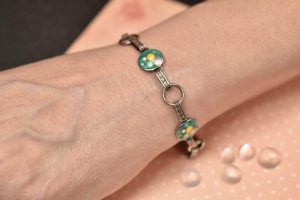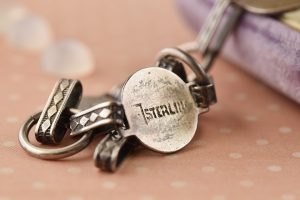 Bright turquoise enamel coats each round disk and is dotted with white, yellow, lavender and mint-hued bubbles.  The style is effervescent and enchanting.  Clearly etched on the back of each one is the word "sterling" – displaying the precious metal used to create this little charmer.   Priced at just $325, this vintage darling is the newest addition to our estate department and is available now.  If you're feeling like an uncorked bottle of champagne…  if you're bubbling over with joy, then this bracelet is for you.  Call us today to make it yours.
"You can go to a museum and look, or come to us and touch."
Written by Carrie Martin
Photos by Dana Jerpe