Joden Girl
Baubles, Bling and Contemplative Things
How can two things be so similar and yet worlds apart at the same time?  And when you're faced with such a conundrum – how would you choose between the two?  That's the question I have for you today.  We recently acquired two Victorian diamond cluster rings.  
This pair of antique beauties has so much to offer.  Both rings are made from yellow gold…  one is 14-karat (Let's call it Ring A) while the other is 20-karat (Ring B).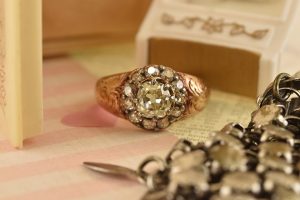 Ring A has a rosy appearance to the gold.  Nine Old Mine Cut diamonds create a floral pattern, with one in the center and eight more forming the petals.  Old Mine cuts are notoriously irregular and these are no exception. One seems squarish while the next more oval.  Together, these diamonds have a combined weight of 1.15 carats.  Ring B is also set with old miners…  one in the center with eleven more surrounding it.  The large cushion-shaped stone in the middle weighs approximately 1.35 carats while those in the halo add an additional 1.30 carats (2.65 carats total!).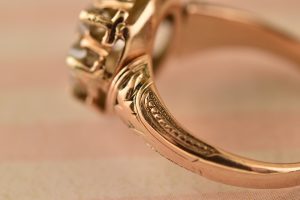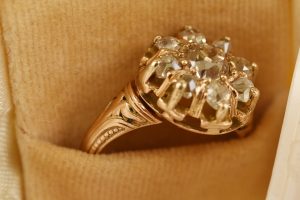 Ring A, circa 1870, showcases engraved patterns on the shoulders and shank of the ring.  Curved lines combine with small beaded edges.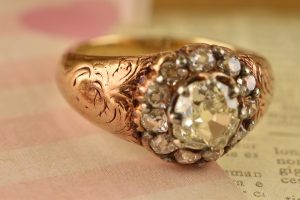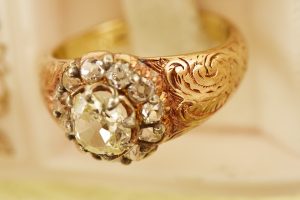 Ring B, circa 1885, also exhibits etched patterning.  A bit worn from wear, the remaining lines swirl around providing a mere glimpse of the previous decoration.  Both rings are dazzling.  The light glints off each antique diamond with charming allure.  
And so…  we're faced with a real dilemma.  Perhaps one additional piece of information will help.  Ring A, with 1.15 carats of diamonds is priced at $2,450.00.  Ring B, with 2.65 carats of diamonds, is priced at $6,650.00.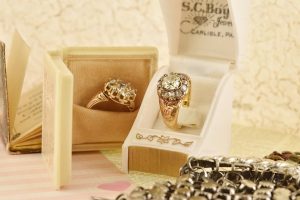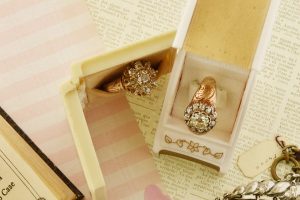 Each one is an antique cluster ring.  Both are made from yellow gold and are set with Old Mine cut diamonds.  Each ring features hand-engraved patterns…  so, which would you choose?  This or that?
"You can go to a museum and look, or come to us and touch."
Written by Carrie Martin
Photos by Dana Jerpe