Joden Girl
Baubles, Bling and Every Day Things
There's no way around it, the holidays are right around the corner and the shopping frenzy has begun.  With the media warning that some of the more commercial gifts might be hard to find, we encourage you to shop small.  Our cases are filled to overflowing with treasures of every kind…  from Victorian to modern, we truly have something for everyone and every budget.  Be sure to check out our social media for your daily dose of holiday dazzle.  
Today's choice is particularly sweet.  Made from a pairing of 18 karat white and yellow gold, this contemporary pendant is an ideal selection.  The petite size is perfect for regular wear.  It makes a simple statement without being over the top.  The center stone is a round raspberry-colored rhodalite garnet.  The lovely purplish-red hue of the gem is further enhanced by a unique faceting technique…  it's checker cut.  The crown and table of the garnet exhibit square facets resembling a checkerboard, adding an uncommon but brilliant sparkle.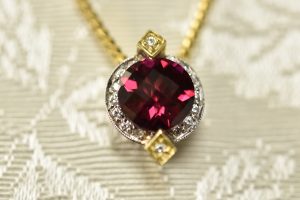 Surrounding the garnet are sixteen round diamonds.  Fourteen of these fully faceted stones are set in an 18 karat white gold halo accent.  The remaining two diamonds are featured within a pair of tiny yellow gold kite-shaped settings located at 6:00 and 12:00 o'clock.  The total weight of all sixteen stones is .10 carat.  Measuring just half an inch from top to bottom, the dainty size of this piece lends it to frequent wear.  It will quickly become your go-to choice.  
Suspended from a 14 karat yellow gold twenty-inch foxtail chain, this pendant is ready for your winter wardrobe.  The longer length of the chain is excellent for cozy sweaters.  I love that it's made in a slide-style.  There is no bail on the pendant, the chain slides through an opening in the piece further simplifying the overall design.  Priced at just $925.00, this beauty is available now.  Call us at 800.747.7552 to make it yours today.
"You can go to a museum and look, or come to us and touch."
Written by Carrie Martin
Photos by Dana Jerpe