Joden Girl
Baubles, Bling, and The Latest Things
If you're a regular on our social media, you know that we love our conversion jewelry!  We love taking something that's been laying around here and giving it a new life.  Sometimes a piece is worn out, broken or perhaps just no longer relevant.  To take that and create something fresh is so satisfying.  
Our most recent passion has been conversion rings.  For years we shied away from them – but just a few months ago, with the addition of our new jeweler, we got brave!  Whether it be an old stick pin, or perhaps a shirt stud from a tuxedo set – these little finds make the sweetest rings when you combine them with the perfect band.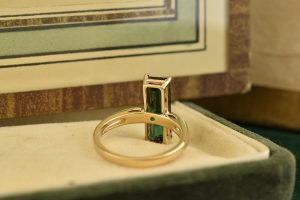 We're crazy over this oh-so-elegant gem.  Formerly an oversize slide pendant, this incredible green tourmaline was constantly overlooked.  When we paired it with this simple yellow gold band, this elongated emerald cut deep green stone came alive.  It's available in our conversion case for just $850.00.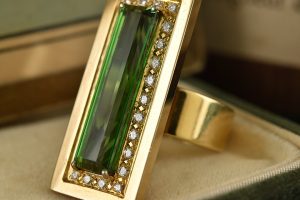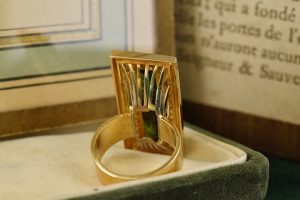 If you love the first ring, this one will knock your socks off.  Made from 18 karat yellow and a bit of white gold, this ring is true showstopper.  Measuring 1.5 inches from top to bottom, this ring reaches from knuckle to knuckle on my hand.  The emerald cut tourmaline weighs 10.00 carats and is surrounded by twenty-two diamonds that have a total weight of .75 carat.  Framed by a bold gold border, this ring is everything you never knew you needed.  Priced at $3,750.00 – it's too good to miss.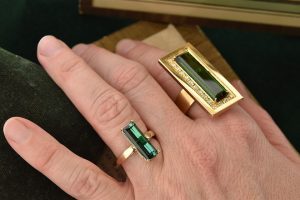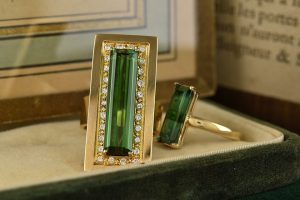 Shown together, we're dying to know which one is your favorite.    Which would you choose – simple elegance or over-the-top bling?  Can't wait to hear from you!
"You can go to a museum and look or you can come to us and touch."
Written by Carrie Martin
Photos by Dana Jerpe