Joden Girl
Baubles, Bling and Starry Things
"Where is He who has been born King of the Jews?  For we saw His star when it rose and have come to worship Him."  Matthew 2:2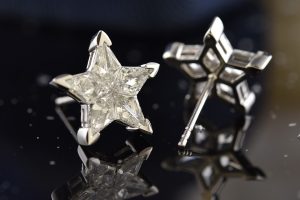 Since the very first Christmas, stars have been part of the holiday celebration.  These luminous lights in the night sky are enchanting and enigmatic.  Perhaps you place a star at the top of your Christmas tree… this star is a modern day interpretation of the Star of Bethlehem.  This most important star was the very thing that led the three wise men to the baby Jesus.  Today that shining star reminds us of the true meaning of Christmas.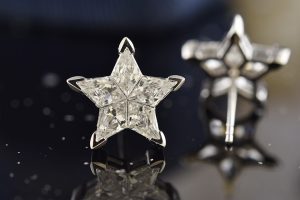 Made entirely of platinum, these diamond stud earrings are made in the form of a five-pointed star.  Each one is a composite of five perfectly matched kite-shaped diamonds.  There are ten diamonds in total that have a combined weight of 1.88 carats.  Glittering every bit as much as the stars in the sky, these beauties have an average color grade of I and an average clarity grade of VS1.  These unique earrings are moderately priced at $3,900.00.
A symbol of devine guidance, the star represents hope for the future.  This holiday season, reflect and rejoice for the future is bright indeed.
"You can go to a museum and look, or come to us and touch."
Written by Carrie Martin
Photos by Dana Jerpe