Joden Girl
Baubles, Bling and Favorite Things
Timeless design, classic appeal and rich with symbolism; the three-stone ring is arguably one of the most iconic styles of all time.  Whether you're searching for the perfect engagement ring or perhaps an anniversary band that is beyond compare – this exemplary configuration is definitely worth considering. 
Most often dubbed the Past, Present, and Future ring – it's aptly named.  Usually arranged with one larger center stone that is flanked by a pair of smaller stones, the meaning is simple.  One small diamond represents the love and memories the couple has shared, the other smaller diamond personifies all of the beauty and joy of where the relationship is now while the larger diamond in the center is symbolic of a bright and promising future.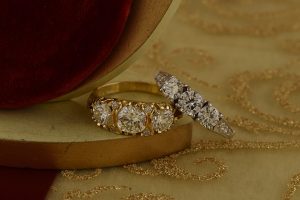 Once you've committed to this ultra romantic motif, I have just one question for you…  this or that?  These two beauties are at the top of my list, but which one would you choose?  First, we have an antique-inspired 18 karat yellow gold stunner.  A revival of the Victorian half-hoop ring, this modern counterpart has a quiet beauty that is tough to beat.  With the three main diamonds having a combined total weight of 1.72 carats – it sparkles from every angle.   The overall style of this gem is low profile and band-like, making it ideal for daily wear.  Priced at $6,700.  
Then we have this cool platinum dreamboat.  Three round diamonds span the mid-section of this modern marvel with a combined total of 1.04 carats of brilliance.  An additional thirty diamond melee are set in the side, shoulders, and gallery of the band – quite literally covering the entire top half of the ring.  This baby is all about the sparkle and is available on our website for just $5,850.00.
And so the question remains the same…  this or that?  Would you prefer the warm Victorian vibe created by this vintage-inspired yellow gold ring or perhaps you're captivated by the white hot heat of the platinum number.  These and so much more is waiting for you at Joden Jewelers.
You can go to our site and look, then come to us and touch.
Written by Carrie Martin
Photos by Dana Jerpe and Shelly Isacco