Joden Girl
Baubles, Bling and the Latest Things
Emerald.  It's a well-known gemstone from the mineral Beryl.  The green color comes from trace amounts of chromium and vanadium.  These verdant beauties often feature internal inclusions that can resemble moss growing with the gem.  While many prize them for these unique birthmarks, the emeralds that are clear with little to no inclusions are extremely rare and even more valuable. 
The finest emeralds boast a dark vivid green color and are transparent throughout.  These gems are more rare than fine diamonds and can command an even higher price.  Harvested primarily in Columbia, Brazil and Zambia – these South American and African stones require extra care as they are easily scratched.  While not an ideal choice for daily wear, emeralds can still be worn and enjoyed… just a bit more carefully.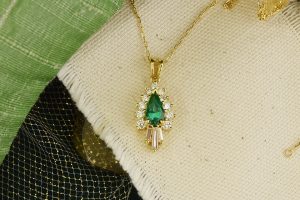 A pendant is an excellent choice to showcase a fine emerald, like this bright beauty.  Made from 18-karat yellow gold, this bit of neck candy showcases a killer pear-shaped emerald center stone that weighs approximately 1.25 carats.  Enhancing this high-quality gem is a unique halo…  eleven round brilliant diamonds encapsulate the v-shaped tip and cascade down both sides.  Accenting the rounded bottom of the emerald is a spray comprised of three tapered baguette diamonds that elongate the shape of the pendant.  All diamonds have a combined weight of .75 carat.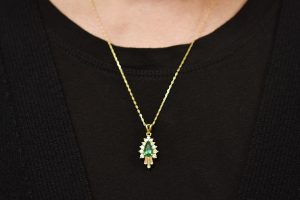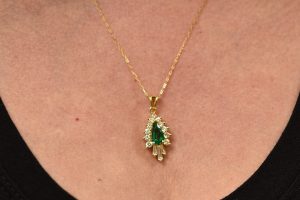 Worn over your top or showcased on the skin – either way, this gem truly shines.  It glitters enchantingly, catching the light with every move.  Petite but powerful, the pendant measures a mere one inch from the top of the bail to the base of the longest baguette and hangs from a dainty 18-karat yellow gold 18-inch chain.  
If you've always wanted to add an emerald to your jewelry wardrobe – this is the perfect opportunity.  The latest addition to our estate department, this vibrant gem is available in our store for $4,350.00.
"You can go to a museum and look, or come to us and touch."
Written by Carrie Martin
Photos by Dana Jerpe