Joden Girl
Baubles, Bling and the Latest Things
It's no secret that I love daisies…  they are my very favorite flower.  From the bold yellow center to the spray of bright white petals that fan out from it.  Silly as it sounds, daisies are indeed the friendliest flower.  Not only are they great on their own, they also pair well with other flowers.  
Our latest find is simply too sweet to pass up.  Made from 18-karat gold, this brooch takes the form of  miniature bouquet of flowers.  Presenting a charming trio of one daisy, one pansy and a bachelor's button  – the variegated shades of purple, yellow and white complement each other beautifully.  
Made from 18-karat green gold, the stems of each blossom are intertwined.  Cleverly textured to look authentic and real, they are held together with a double loop of 18-karat rose gold ribbon.  The true beauty of the piece is captured in the multicolored enamel that brings each flower to life.  From the tiny pink line that runs down the center of each daisy petal to the blending of violet and golden hues on the pansy – this pin is Art Nouveau perfection.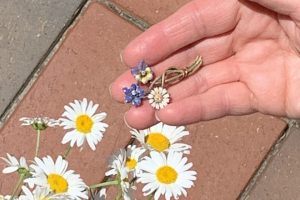 A tiny Old Mine Cut diamond marks the center of each flower – much like the cherry on top of a sundae.  Moderately priced at $1,950.00, this brooch is the ideal way to have a touch of summer in your life every day of the year.
"You can go to a museum and look, or come to us and touch."
Written by Carrie Martin
Photos by Dana Jerpe