Joden Girl
Baubles, Bling and a Blooming Ring
Today's featured piece has turned into a bit of a mystery.  I loved it at first sight, which is no great surprise considering that it's a flower.  I'm a sucker for a pretty posy.  Oftentimes, when I find something that I like, I keep it on my desk….  giving me the opportunity to test drive it.  I can try it on, even wear it for a day or more; it allows me to get a real feel for it without buying it.  It's a perk of the job, and it helps prevent impulse purchases (especially if you're a lover of retail therapy, like me).
Sometimes those pieces go back to wherever I found them.  Sometimes, they become mine.    And sometimes they end up here…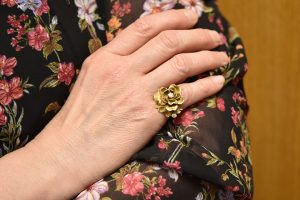 This ring is a unique find.  Incredibly lifelike, a three dimensional flower sits atop a twisted double rope band.  There are no hallmarks on the ring, however by using our electronic metal analyzer, I was able to determine that the entire top is made from 18-karat yellow gold while the bottom is 14-karat.  The blossom itself is beautifully made with nineteen separate petals.  Each one features a hand-textured surface and a softly ruffled edge.  It has a romantic vintage vibe that is absolutely charming.  
The band seems to be more modern and not as fine.  It's possible that it's a marriage, joining together a pendant (or pin?) with a twisted band to create one ring.  It's also quite small, a size 3.  Sitting on my pinky, the flower spans from one knuckle to the next.  One round diamond winks from the center and a second diamond dangles from an outer petal.  With a total weight of approximately .30 carat, these gems add sparkle and a hint of whimsy.  
Initially, I thought it was a rose.  But as I sat down to write…  I wasn't sure.  I consulted Google – after which, I pondered the possibility of a peony.  With those two choices in mind – I asked Dana.  She is team peony.  Still on the fence, I went back to Google, which added a more specific possibility…  the English Garden Rose.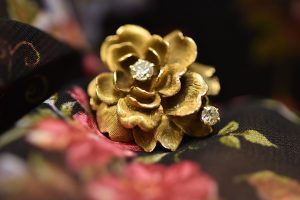 Although this ring seems to present more questions than answers, one thing is certain.  It's lovely and so much fun!  Flowers are one of natures most delicate beauties and have inspired jewelers for centuries.  Available now for just $600, this botanical blossom offers enduring elegance.  Check out our Instagram story and tell us what you think!
"You can go to a museum and look, or come to us and touch."
Written by Carrie Martin
Photos by Dana Jerpe