Joden Girl
Baubles, Bling and Vintage Things
It's the single-most popular jewelry item.  In fact, 87% of us wear them.  It's our go-to choice when choosing a bit of bling to treat ourselves… AND it's our favorite kind of jewelry to give as a gift.  Surprisingly, the answer isn't rings – it's actually earrings.  They're our favorite place to showcase colored gems…  most often round in shape.  While stud styles still reign supreme, more than a third of us are crazy for a good drop earring.  
These little darlings from the Victorian era charmed me from the very beginning.  Made from 10-karat yellow gold, they offer vintage appeal from the flower-shaped top the to artfully sculpted bottom.  Measuring just over an inch in total, they're the ideal size to go from the supermarket to the office to date-night dinner.  The cap, a sweet five-petaled flower seems like an unusual choice for the exquisitely elegant base.  And although both components are true antiques, I have to wonder if they were originally paired together or if they're a marriage.  
Intricate details shape the lower segment.  Straight lines meet curved edges.  Double-leafed stems and curlicues are accented by milgrain beading.  Over 140 years of patina have gathered into each crevice and line, although rather than presenting in deep, dark tones instead it shines with an iridescent crimson hue.   Original threaded posts and backs ensure the safety of the earrings even during wear.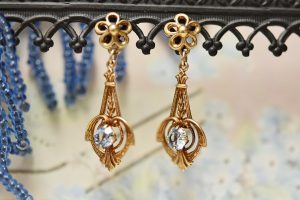 A singular ice blue round stone is set in each earring.  Although these stones are synthetic, the color is lovely and amps up the appeal of the earrings.  Priced at $495, these little beauties have just been added to our site.  Feel free to stop in and admire them in person.  Hitting every mark of our most-favored article of jewelry, they're sure to go quick! 
"You can go to museum and look, or come to us and touch."
Written by Carrie Martin
Photos by Dana Jerpe