Joden Girl
Baubles, Bling, and The Latest Things
Made at the end of the Edwardian era, these dangly earrings are just too good!  Perfectly sized and beautifully designed, they are made from an unbeatable combination of platinum and 14-karat yellow gold.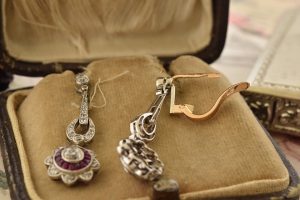 Beginning with two dainty bezel-set old cut diamonds then flaring out with two uniquely shaped links, the overall form of the earring is elegant and refined.  Each one culminates with a scalloped-edge floret.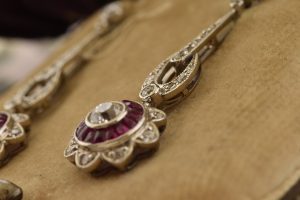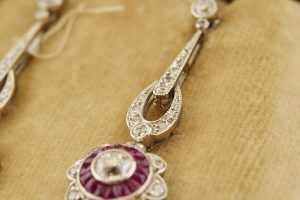 Made in three distinct sections, these floral links center on a matched pair of Old Mine Cut diamonds that have a total weight of .40 carat.  Encircling those diamonds are a halo of deep red calibré-cut rubies.  Well-matched in both size and color these gems have a combined weight of approximately .80 carat.  Forming that scalloped petal edge are sixteen additional old cut diamonds; added to the twenty-diamonds set in the remainder of the earring – the forty stones have a total weight of .80 carat.  
Still ensconced in their original leather box, these beauties are authentic and original, moderately priced at just $3,675.00.  This could just be my favorite fresh find yet!
Written by Carrie Martin
Photos by Dana Jerpe