Joden Girl
Baubles, Bling and Signed Things
Nearly two hundred years ago, Charles Lewis Tiffany joined forces with John Young and opened a stationary and gift shop in lower Manhattan.  Initially the store primarily sold paper goods.  However, by 1853, the name was changed to "Tiffany & Co."  when the focus of the firm shifted.  Under the tutelage of Charles Tiffany, the growing company changed gears to concentrate on fine jewelry….  and the rest, as they say is history.  
Now one of the most recognized brands in fine jewelry, "Tiffany & Co." is highly collectible and sought after by everyone from novices to connoisseurs.  Having partnered with famous designers like Elsa Peretti and Paloma Picasso – the brilliant designs are both classically timeless and cutting edge at the same time.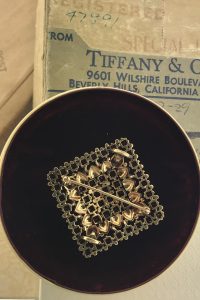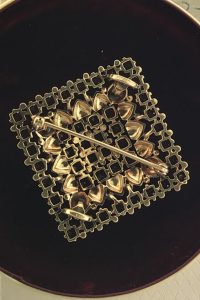 Like many of their creations, this Mid Century beauty was manufactured in the United States, probably in the 1970's.  14 karat yellow gold combines with a series of forty-four square-cut garnets in a masterpiece of design.  By merely tipping the square on it's edge, this wonderfully wearable brooch went from mundane to modern.  At first glance, it's deceptively simple…  a sparkling array of deep red garnets.  Closer inspection reveals the intricate background that allows those very gems to shine.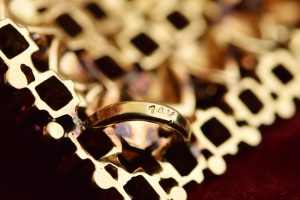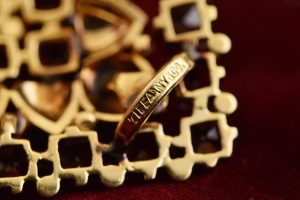 A repeating grid of equal-sided openings, this filigree-like framework is a geometric dream.  The bold boxy gems are arranged on top of this unique pattern.  A double-tiered garnet square marks the center with another band of the same stones  forming the perimeter.  Offering nearly five carats of bling, this brooch can go from day to night with ease.  Wear it to work or pin it to your jacket for an evening out – this collectible charmer, priced at $2300.00, is within your reach.
If you've always wanted a piece of fine Tiffany & Co. jewelry, now's your chance.  This is just one of the many lovely pieces by the iconic designer available at Joden Jewelers.  Check out our Facebook and Instagram for more Tiffany Trinkets.
"You can go to a museum and look, or come to us and touch."
Written by Carrie Martin
Photos by Dana Jerpe