Joden Girl
Baubles, Bling, and The Latest Things
January babies have long been celebrated with a lustrous bright red stone known as garnet.  This gem is rarely treated due to it's natural color and clarity.  Found in a brilliant array of red, orange, yellow, purple and green, garnet is one of the most beautiful and affordable of the semi-precious stones.  
Thought to bring virtues such as love and luck to those born in the first month of the year, it's the perfect way to start a new year.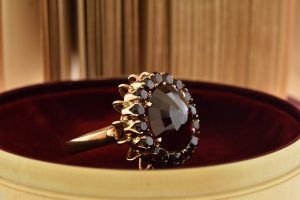 Usher in 2022 with this bold ring that features a uniquely faceted Mozambique round garnet center.  Weighing over eight carats, this stone was shaped using a variation of a checker-cut style.  With graduating sizes of facets in the form of a parallelogram, this modern technique adds unusual sparkle to the deep red gem.  It's surrounded by an additional sixteen small round garnets that have a combined weight of 2.75 carats.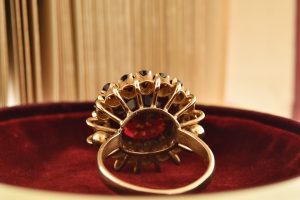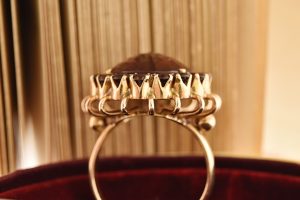 The entire ring is crafted from a rosy 18 karat gold.  At a glance, it reminded me of a Victorian piece – the large physical presence, the color and karatage of the gold as well as the bohemian feel of the ring are all characteristics of the mid to late 1800's.  Whoever designed this ring was able to combine the look of an antique ring and a modern cut garnet with real finesse and style to create a truly unique ring.
Moderately priced at $1,175.00 – this ring is a dream for anyone, not just those born in January.  Make a statement in 2022 with this bold beauty from Joden Jewelers.
Written by Carrie Martin
Photos by Dana Jerpe