Joden Girl
Baubles, Bling, and The Latest Things
Our love affair with the marquise diamond has been a bit bumpy…  we love them, we hate them, love, hate…  you get the picture.  This elongated shape is often described as a football, an eyeball or even a smile.  Turned in an east/west orientation, perhaps you can visualize the original inspiration.  In the 18th century, King Louis XV of France commissioned a jeweler to create a uniquely shaped diamond that would compare to the lips of his mistress, Jean Antoinette Poisson.  That skilled artisan sculpted the earliest form of the marquise diamond.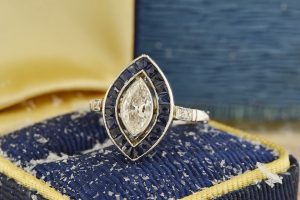 This elegant elliptical silhouette is less common that the round brilliant or the princess cut.  Most favorably measuring twice as long as it is wide, the shape often appears to lengthen and slenderize the finger while also tending to appear larger than it actually is.  More popular in cocktail and right-hand rings, this classic navette is a more unusual choice in an engagement ring.  
Like so many other trends, the rise and fall of the marquise diamond can be traced over the past decades, finding favor in the Art Deco era and then again in the 1960's and '70's.  This uncommon shape reached it's peak of popularity in the 1980's.  Not only was it often utilized as a center stone, the silhouette was adopted by colored stones as well.  Marquise shaped rubies, emeralds and sapphires set in yellow gold provided a delightful pop of color, a bright and bold accent.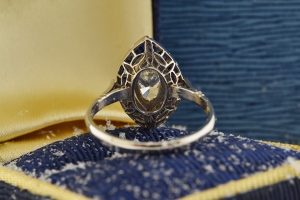 Recently acquired, this latest gem in our estate department has so much to offer.  With a nod to Art Deco style, this elegant beauty was actually made in the 1960's.  The cool grey tone of the platinum has been polished to an impeccable shine.  The center boasts a .57 carat marquise diamond set parallel to the finger.  This diamond is colorless (F, in fact) with a clarity grade of VS2.  The high white color of the diamond is accentuated by a halo of twenty-two natural blue calibré-cut sapphires that have a combined weight of 1.20 carats.  Four tiny round brilliant diamonds are set into the narrow shoulders of the ring.  Even viewed from behind, this ring is absolutely lovely.  
Moderately priced at $2,950, this ring has struck our fancy – we're hoping it does the same for you.  We just added it to our site, be sure to check it out at www.joden.com and make it yours.
"You can go to a museum and look, or come to us and touch."
Written by Carrie Martin
Photos by Dana Jerpe