Joden Girl
Baubles, Bling and Inspired Things
Oscar Wilde once said that imitation is the sincerest form of flattery.  For centuries, artisans and jewelers have proven the truth in those words.  Inspiration for these craftsman was often found not by envisioning something new but rather by looking into the creations of years gone by.  
When I found these earrings, I immediately identified them as Victorian.  All the earmarks were there, beginning with the oval amethyst center stones.  Amethyst was a very popular gemstone in the 1800's, especially in soft pale lavender shades like this. 
Held in place by a seamless circle of twenty claws, these two genuine stones have a combined weight of approximately 6.00 carats.  A tiny golden rope decorates the base of each setting.  The overall look is softened with the addition of a halo of seed pearls.  These natural beauties are carefully strung and secured in place with a singular strand of metal wire.  Simply lovely.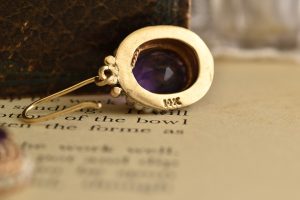 When I flipped one of the earrings over and the crisp "14K" hallmark appeared, I changed my mind.  I knew these were not authentic Victorian earrings from the 1800's.  Instead, they were made in the 1950's.  Stamping the 14-karat gold hallmark on jewelry began in 1932, making it impossible for these little charmers to be truly Victorian.  They're a revival…  a tradition that honors the style and technique of a previous period.  The Victorian era encompassed most of the 19th century and showcased some of the most iconic antique jewelry of all time, it's easy to understand why jewelers in the 1950's were compelled to re-create it. 
Revival jewelry is often more readily available and in better condition than the antique pieces they've been modeled after.  Additionally, age and condition are directly correlated to price…  so a pristine piece of Victorian jewelry could command quite a high price.  Because these revival earrings are only 70 years old and not 170 years old…  they're quite reasonable.  Priced at just $725.00, they're a great and affordable alternative to authentic antique earrings.  Call us at 800-747-7552 to make them yours today.
"You can go to a museum and look, or come to us and touch."
Written by Carrie Martin
Photos by Dana Jerpe