Joden Girl
Baubles, Bling, and A Collector's Things
Perhaps one of the most beloved types of jewelry is the locket.  Tracing its origin back to the Middle Ages, this descendant of the amulet is a treasured heirloom for many.  Most early lockets were crafted from precious metal and featured a compartment often used for very practical purposes.  Necessities like herbs and medicine were sometimes kept inside, some held a tiny piece of perfumed fabric that women held to their nose to protect from offensive odors – and rumor has it that a few even contained a small amount of poison!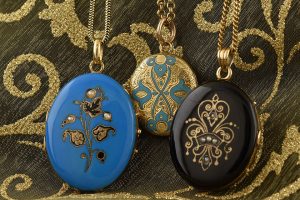 By the 1600's, lockets had evolved a bit and were primarily used as a memorial.  A picture or lock of hair was often kept safe inside.  The Victorian Era (1837-1901) brought us the version of this popular pendant that we know today.  Tiny slivers of glass were fitted to each half of this hinged necklace to add a layer of protection to the treasured held within.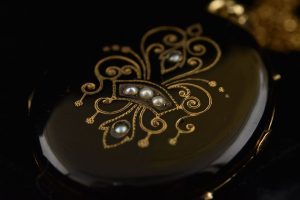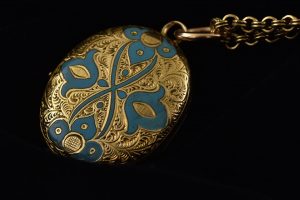 Joe's Special Box offers a variety of these vintage beauties, each one more unique than the last.  Here, we have a remarkable trio.  First, from the late Victorian Era, is a mourning locket.  Both the front and back are completely encapsulated in black enamel with a delicate seed-pearl accented design – priced at $1,375.00.
Next, is a heavily engraved yellow gold charmer.  This botanical pattern features turquoise blue enamel flowers and vines.  It is suspended from an authentic antique rolo-link chain and is available for $1,650.00.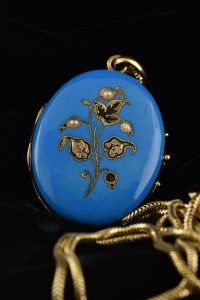 And finally is this vision of bright blue loveliness.  The front side of this piece is decorated with a floral spray.  The tiny leaves are outlined with black enamel and miniature pearl blossoms.  It slides on a silky smooth snake chain and is priced at $1,750.00.
If you're sentimental like the Victorians were and have always wanted a keepsake locket, don't let these pass you by!  Call us at 1-800-747-7552 to purchase today. 
Written by Carrie Martin
Photos by Dana Jerpe