Joden Girl
Baubles, Bling, and A Collector's Things
One week ago today my husband and I loaded up our oldest baby and moved him into his dorm at Westminster College…  he had to report early for football camp.  For 18 years, we have celebrated so many firsts…  but now things seem to be filled with lasts.  I am more than a little heartbroken.  With one child still at home, we aren't empty-nesters, but the writing is on the wall and I don't like it one little bit.
In the days since, I have found myself reaching for my silver charm necklace that holds four things..  a family tree, a "Thankful, Grateful, Blessed" pendant and two charms with the names of my boys.  I have found comfort in having a small reminder of my son close to my heart.  For centuries, people have been wearing lockets for this very reason.  We're sentimental and romantic…  these pendants are a tangible reminder of those we love.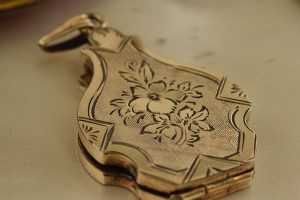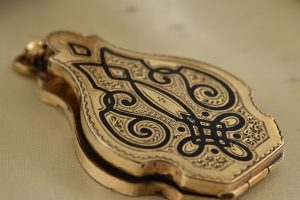 I am crazy for the unique shape of this low karat gold locket.  Each side is elaborately decorated, enabling the piece to be worn with either side facing out.  Choose between a deeply etched botanical blossom or a swirling pattern of black tracery enamel.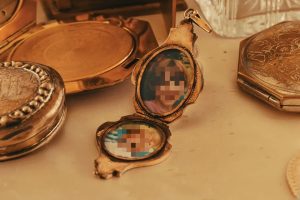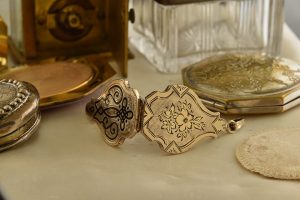 Upon opening, the small space inside can be filled with pictures, a tiny love note or perhaps a lock of hair.  Made in the 1880's, this nostalgic pendant is priced at $650.00.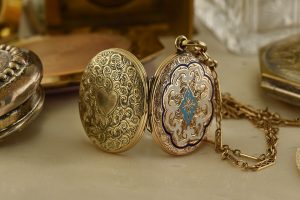 Next is this beauty that speaks directly to my heart.  Suspended from an authentic antique twenty inch chain is one oval locket.  Each tiny link of the chain offers filigree appeal with lovely open wire work.  The locket itself is ornately adorned with three different colors of enamel…  stark white, deep cobalt and a turquois Tiffany blue.  Each hue perfectly accents the engraved pattern on the front of the piece.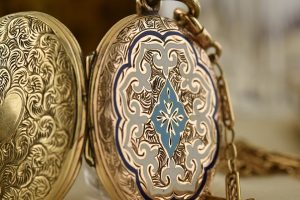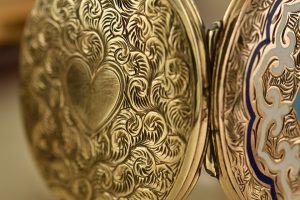 The etched motif continues on the back.  My favorite part is the small plain heart in the center.  ♥.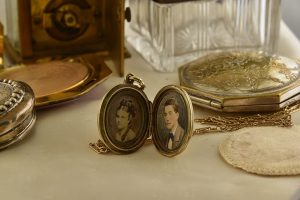 Two original photographs remain inside under glass.  This gem is priced at $1,150.00. These antique beauties were someone's prized treasure over one hundred years ago and now they can be yours.  Both can be fitted with your own photos and memorabilia.  Whether your loved ones are near or far, personalized keepsake jewelry allows you to keep them close to your heart.
"You can go to a museum and look, or come to us and touch."
Written by Carrie Martin
Photos by Dana Jerpe