Joden Girl
Baubles, Bling and Insider Information
The recent winter storm blew in the cutest little bit of holiday help!  Her credentials are top-notch.  In fact, she's an expert in marketing with a real eye for style; we snapped her up before she could scurry away.  A bit nocturnal; she prefers to work at night.  If you're clever and keep an eye out, you may catch a glimpse of her on our Instagram and Facebook pages.  We are completely smitten, and you will be too.  Meet Ruby!
Dana and I have taken a day or two to show her the ropes – she caught on quick and has become quite a handy assistant.  As you may have guessed, Ruby's favorite gemstone is ruby… she's particularly captivated by this charming Georgian ring.  It's her favorite piece!
Featuring three old cut pieces of ruby red glass surrounded by natural seed pearls, this nearly two-hundred year old 9-karat gold beauty is on our website for just $800.00.  It's in excellent condition and looks particularly fetching with Ruby's red Christmas sweater.  
A tiny shiver ran from the top of Ruby's little pink ears to the tip of her long tail the moment she saw this next ring…  she immediately ran to hide.  Seeking solace in the shadows of a birch tree, Ruby hid from this snake.  As you know, snakes are a natural predator of mice – she didn't want to be an afternoon snack!  If you're not afraid, this diamond-studded slithery snake is available for $975.00.
Speaking of snacks – Ruby loves being here in the store.  She never has to look far for her next meal…  someone is always dropping a crumb or two.  Indeed, it's just the thing for a mouse in need.  And it's not only food – Joden has everything!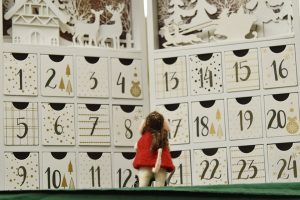 Ruby is the official spokesmodel of our advent calendar…  tune in every day to see what treasure she will find inside each special box.  The countdown is on – and as you know, Christmas just won't be Christmas without a Joden package under the tree. 
"You can go to a museum and look, or you can come to Joden and meet Ruby!"
Written by Carrie Martin
Photos by Dana Jerpe