Joden Girl
Baubles, Bling and Re-Created Things
Talk about a statement piece!  Twenty-five inches of rich, buttery 18 karat yellow gold presented in three rows of triple-ribbed rolo links.  Made in classic Egyptian revival style, this bold beauty is a celebration of the ancient culture famous for it's fascination with both life and death.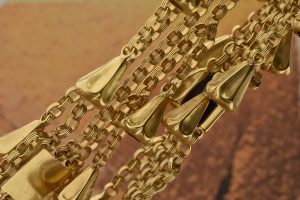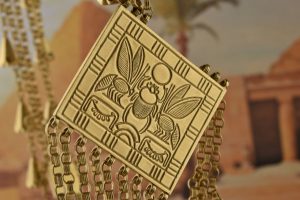 Spaced intermittently along the length of this necklace are sixty-nine tassels with nine of them suspended from the centerpiece.  They vary between one and two inches with each ending in a fluted bell.  This fringe style moves and sways creating an enchanting little jingle.  The anterior of the center placard features an ornately etched scene – a scarab beetle rolling a dung ball is flanked by a pair of winged insects all held within a geometric border.  Flip it over and discover the same scene done in a three-dimensional design starring a Lapis Lazuli inlay.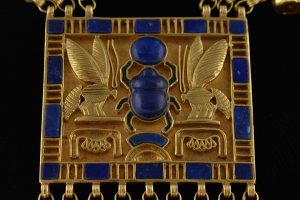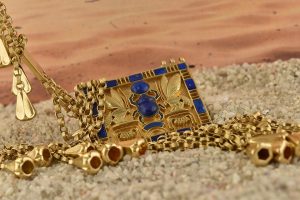 The scarab beetle has long been a symbol of transformation and resurrection.  These small yet historically significant bugs were at the heart of the Ancient Egyptian culture.  Additionally, the bee is known to represent community.  For thousands of years, civilizations have thrived upon the concept of coming together as a whole to overcome adversity.  This showstopper is available now for $12,800.00.  
"You can go to a museum and look, or come to Joden and touch."
Written by Carrie Martin
Photos by Dana Jerpe