Joden Girl
Baubles, Bling, Pins and Things
Over twenty-eight thousand posts can't be wrong.  There's a movement happening on Instagram… #bringbackthebrooch.  There is no other piece of jewelry as versatile.  There are countless ways to sport your favorite pins.  I am dedicating this week's blog to some of our favorites!
Luxurious satin, plush velvet, or even a playful pattern – take a length of ribbon and tie a fabulous oversize bow around your wrist.  Adorn it with something sparkly, like this stunning Victorian butterfly.  This silver on gold beauty glistens with over a carat of rose cut diamonds.  Each wing centers on an old cut brilliant blue sapphire.  Add in a cabochon opal body and a pair of ruby eyes and this look will have heads snapping!  Take this winged creature home for $3,750.00.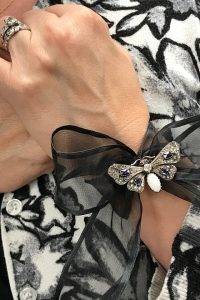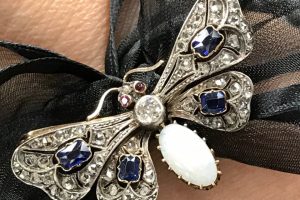 Wrists aren't the only place to tie a bow…  ankles are fair game and oh-so-sexy.  Create your own ankle strap with a bit of black grosgrain ribbon.  This diamond daisy brooch adds a splash of vintage glam.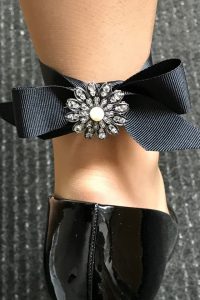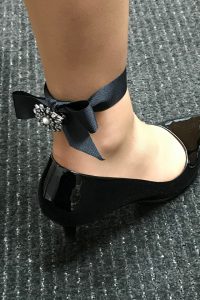 You can call it late Georgian or early Victorian…  I call it gorgeous.  You know I'm a sucker for flower jewels (this one is available for $3,500.00) and this little bauble is no exception.  Every petal is covered with a glorious patina – the perfect contrast to the bright white diamonds.  Over two carats that sparkle and shine with every step – imagine making a fashion statement like this on the dance floor!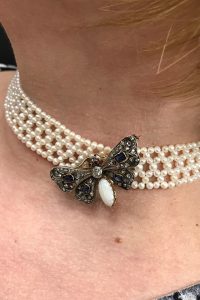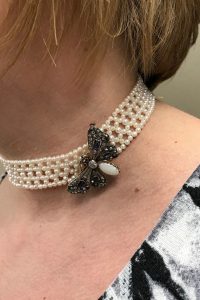 If bows aren't your thing – check out our twist on an old favorite.  This woven choker is a must for every jewelry wardrobe.  Wear it alone or jazz it up with a brooch or two.  Dig into those jewelry boxes, find your brooches!  Pin them to your collar, lapels and ties.  Add them to your cuffs, straps, and waistbands.  Join the movement and bring back the brooch!  
Send pictures of your favorite brooches and how you wear them to carrie@joden.com.  Inspire me!
Written by Carrie Martin
Photos (and those great legs) by Dana Jerpe