Joden Girl
Baubles, Bling and the Latest Things
In the mid to late 1800's, long before modern sewage and sanitation systems were in place, Victorians were often subjected to unsavory odors.  In instances when it was inconvenient or even impossible to visit an outhouse, the ever popular chamber pot was used.  These were emptied daily, often into small streams or rivers…  resulting in foul-smelling water.  If you happened to be exposed to some of these offensive odors and you were more than a little wealthy, this would be an occasion to employ your perfume pendant.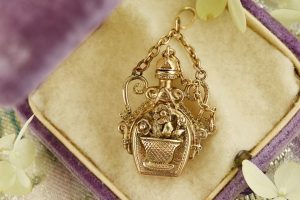 Or perhaps you find yourself out and about and spot an attractive paramour; you MUST freshen your fragrance.  You simply reach for your perfume pendant, pull out the tiny stopper and dab a bit of scented oil to your wrist and neck.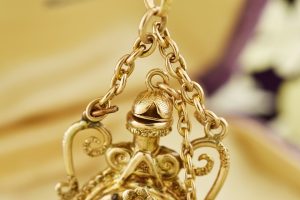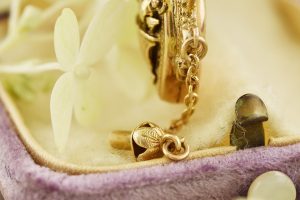 These treasures were worn by men and women either on a chain around your neck or as part of a chatelain (a decorative belt hook worn at the waist to keep essential tools within arms reach).  Your personal chatelaine contained a combination of useful accessories such as scissors, a thimble, a needle case, a pin cushion, a small knife, a tape measure, a coin purse, a memo pad and pencil and of course, a perfume bottle.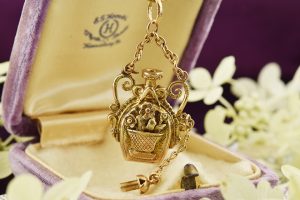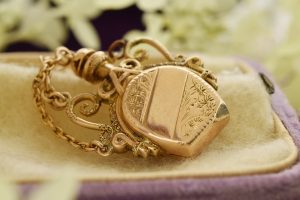 The front of this particular pendant features an intricately stylized woven basket of flowers.  Made from a lovely combination of 14-karat yellow and rose gold, there are three cheerful blossoms – two in full bloom and a third that is still opening.  The back showcases a plain banner meant for personalization, it is situated diagonally across artfully engraved patterns.  Scrolling wires form the structure that hold the bottle while a tiny chain attaches the stopper.  Two additional chains attach to an oval link at the top to allow it to be worn as a necklace.  Soon to be on our website, this charming piece is available now for just $560.00.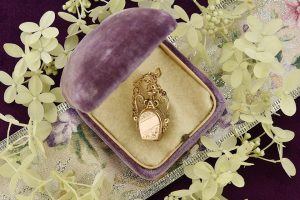 "You can go to a museum and look or come to us and touch."
Written by Carrie Martin
Photos by Dana Jerpe