Joden Girl
Baubles, Bling, and Pragmatic Things
What's on your keychain?  Mine is a jumbled collection of keys, customer appreciation mini-cards and pictures of my kids.  Definitely little things that are important for my day to day life.  In the Victorian era (about 150 years ago), a lady carried her necessities on a chatelaine.  This clever device attached to your belt or a very long necklace and trinkets dangled from it.  Most chatelaines were comprised of keys, a pair of scissors, a thimble, and the household seal.  Other more ornamental curios might include a lipstick, a vinaigrette, or even a small  mirror like this one.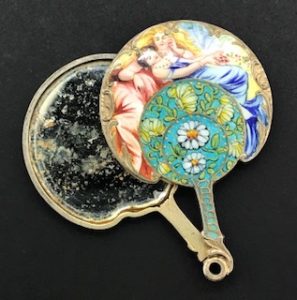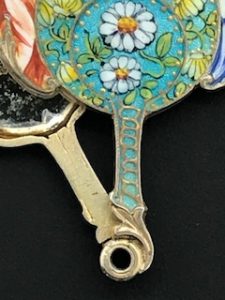 Joe brought this tiny enameled mirror back from the Miami show last year and I have admired it ever since.  I just love it!  It measures about 2.5 inches in length and makes a perfect pendant. The front is completely covered in a vibrantly enameled scene that features a pair of entwined ladies with flowing locks and voluminous gowns.  The bright pink, blue, yellow, and green hues bring this piece to life.  Perhaps you noticed the two daisies that decorate the stem of the mirror…  this tiny detail is everything.  They're my absolute favorite flower.  Even my wedding band is an eternal ring of platinum and 18 karat yellow gold daisies!
A predecessor to the modern day handbag, a chatelaine provided a method of carrying essential tools of everyday life within a hands reach.  Any lady would surely have been thrilled to add this glorious mirror to her cache of implements.  It's dynamic imagery and vivid colors would spark a conversation in any environment, including the modern world of today. 
For more details, including pricing, send me an email at carrie@joden.com or give me a call at 800.747.7552.
"You can go to a museum and look, or come to Joden and touch."
Writing and Photos by Carrie Martin