Joden Girl
Baubles, Bling, and A Collector's Things
"Ballerina girl… you are so lovely…"  Ah, Lionel Richie – no one can sing a power ballad like you.  And no other dancer could light up the stage like Tamara Toumanova.  The black swan of the Russian ballet, Tamara was enchanting audiences from the time she was just ten years old.  I shared some of her other pieces with you last year in On Pointe.
Several years ago, we were able to purchase the jewelry from her estate.  Joe squirreled away a couple pieces for his private collection, including this lovely charm bracelet.  Containing only six charms, each must have it's own story to tell.   While all six pieces are unique, here are my three favorites…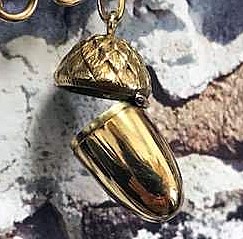 A golden acorn, complete with a hinged lid and hidden compartment – imagine all the tiny things that may have been stored inside!  Then, the little wicker picnic basket that also features a hinged lid.  It's just so sweet.  Articulated charms are highly sought after and quite collectible.  Finally, the star of the show…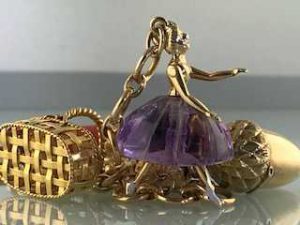 I am completely enamored by this miniature ballerina charm with her purple amethyst tutu and white enameled slippers.  Her delicate arms move up and down, while her legs are permanently fixed in seventh position, en pointe.  The perfect charm for a Prima Ballerina.  
Enchant the ballerina in your life with this charming bracelet for just $1900.00.
Written by Carrie Martin
Photos by Carrie Martin