Joden Girl
Baubles, Bling, and A Collector's Things
If you're a regular reader, then you know all about Joe's Special Box!  It's a veritable treasure trove of vintage gems…  you can find anything from a Victorian baby ring for $200 to a incredibly rare Swiss Enamel bracelet priced at over $8,000.00.  I love digging in the box, turning each bag over to see what's inside.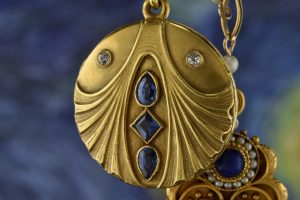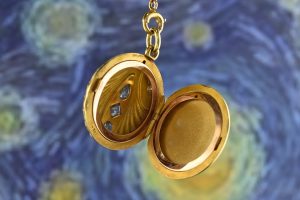 Lockets are a favorite – an old-fashioned keepsake.  Fill it with tiny photos, a hand-written note or even a lock of hair…  our customers are always seeking the perfect one.  This Art Nouveau beauty just might be it!  I am captivated by every element.  The bright yellow gold has a matte finish and features a sculpted fan-like shape.  A trio of blue sapphires are bezel set in a vertical line down the center of the piece adding a pop of color.  The chain is original to the piece – consisting of a series of interlocking oval links, seven of which are set with sapphires and is moderately priced at $4,800.00.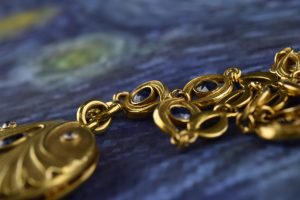 It layers beautifully with the elongated Lapis Lazuli pictured above.  Converted from an antique brooch, this pendant has three cabochon rich blue stones, each one surrounded by a halo of seed pearls.  The strong contrast between the blue and the white is very appealing to the eye.    This delicious conversion necklace is priced at $2,700.00.
When you visit us at Joden, be sure to ask about Joe's Special Box.  The ever-changing inventory is eclectic and varied.  It's worth the visit, just to see this box.
Written by Carrie Martin
Photos by Dana Jerpe