Joden Girl
Baubles, Bling, and  Charming Things
My mom had one, and my grandma too.  I remember being fascinated by the sparkling array of jingling trinkets and wanting one of my own… a charm bracelet!  A little silver rotary style telephone and a baby buggy with wheels that actually spun- those were my two favorite bits from my mom's bracelet.  Grandma's was a little more traditional, and perhaps more nostalgic.  It was a series of small flat discs…  each one shaped like the head of a boy or a girl.  There was one for every grandchild, carefully etched with a name and date of birth.  She passed away 15 years ago, and now her bracelet is upstairs in my jewelry box.  ♥.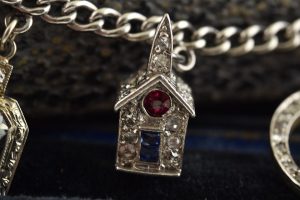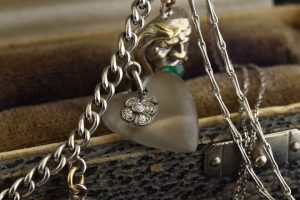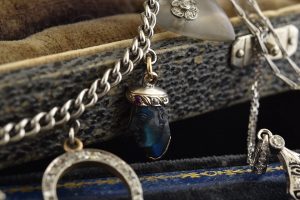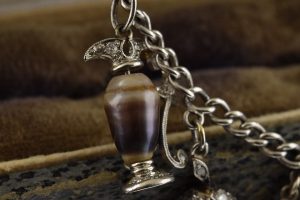 I am fascinated by the idea of collecting a tiny jewel for the landmark moments of life.  When a complete bracelet turns up in our estate collection, I am both delighted and heart-broken at the same time.  I can't get enough of the charms – but it absolutely astounds me that someone would sell such a special heirloom.  These beauties tell a story!  This one is platinum with a string of darling baubles… a crouching tiger, a stein, a diamond-studded acorn, an aquamarine, and a miniature church.  Then there's a lucky horseshoe, and a face carved from opal, a crystal heart and a mask.  Maybe the church symbolizes a wedding, and the gemstones represent the birth of a child.  Priced at $3,750 – you can create your own tale to match this Art Deco dazzler.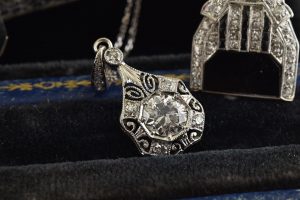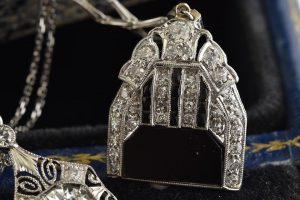 Perhaps you'd prefer to build your own treasure, one piece at a time.  At Joden, we can help you do exactly that!  Choose from a seemingly endless supply of vintage stick pins (they convert into the BEST charms), dainty pendants, or even antique watch parts.  First is authentic Art Deco pendant from the mid 1920's.  For something so small, it packs a punch with a .70 carat Old European Cut diamond center – available now for $2,480.  Don't miss the onyx and diamond number cleverly converted from one half of a watch case – priced to sell for $1,850.  Wear them alone or add them to a bracelet for something that's oh-so-extra! 
Whether you choose a charm bracelet from 100 years ago or you want to start one of your own, come to Joden where the choices are only limited by your imagination.  
"You can go to a museum and look, or come to us and touch."
Written by Carrie Martin
Photos by Dana Jerpe