Joden Girl
Baubles, Bling and Transformed Things
It's no secret, I LOVE conversion jewelry.  You might even say I'm conversion-crazed!  Living in a throw-away society where each of us create almost 1600 pounds of trash per year, I love that we're up-cycling and repurposing these broken or unworn pieces. 
Some of my favorite transformations include:
Pins to pendants
Pins to Rings
Pins to Earrings
Stick Pins to Charms for Pendants and Charm Bracelets
Cufflinks to Earrings
Single Earrings to Pendants
There are endless options and countless reasons for re-imagining jewelry.  Perhaps you inherited a brooch that isn't your jam.  Maybe you've been through a divorce and you want to do something with those rings.  It could be that your style has changed over the years and you have a piece that needs a refresh.  Whatever the case may be, don't hesitate to take something old and create something new.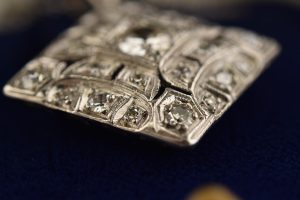 With the holidays on the horizon, the conversion case at Joden is brimming with all the latest revived treasures.  We redesign 99% of these beauties here on the premises – but occasionally we buy a piece of jewelry that was already updated, like this platinum pendant.  
The transformation is so well done that at first glance, you might think this lovely gem was always a necklace.  It wasn't until I turned it over that I was able to discern that it had once been something else entirely.  The center section on the back side is concave.  The gallery is perfectly contoured to lay flush with the finger…  this Art Deco pendant used to be a ring.  It isn't often that someone takes a ring and changes it into something else.  This beauty is an unusual example.
The craftsmanship is superb, featuring hand pierced openings and milgrain edges.  Nestled in the center is an open-culet Old European Cut diamond.  There are an additional twenty-four diamonds set in the outer edges – they are all single-cut stones.  All diamonds have a combined weight of approximately .50 carat.  
Although the original design sat like a square on the finger, I love that someone gave it a jaunty spin.  The pendant dangles from one corner and slides on an 18-inch platinum cable chain.  Priced at just $1,725.00, it's available in the store.  I hope that you've enjoyed this conversion diversion as much as I have!
"You can go to a museum and look, or come to us and touch."
Written by Carrie Martin
Photos by Dana Jerpe