Joden Girl
Baubles, Bling, and Vintage Rings
I love Christmas morning.  The frenzy of sorting through the mound of gifts as my children search for their name on the colorful tags…  the torn paper flies around the family room as the boys rip into each present.  Once they have opened the last gift, and they're checking out all the goodies, a light bulb goes off…  Stockings! 
I love stockings; they have always been my favorite part of Christmas morning.  My mom tucked special little trinkets into ours, and I strive every year to do the same.  There are the necessities – a new toothbrush, Milk Duds, beef jerky, and socks.  Candy canes filled with Reese's cups and M-n-M's stick out of the top.  And (hopefully) there will be two or three little surprises, something really cool nestled into the toe of each stocking.
You know what would fit perfectly into that spot?  A Joden box!  It should, of course, be filled with one of these charming vintage rings!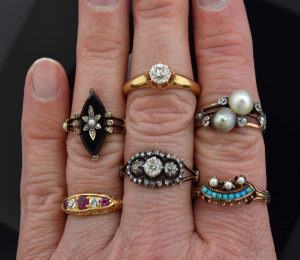 The appeal of each ring is undeniable…  from the tiny squares of turquoise to the rose cut diamond trim.  Each one is a Christmas dream come true. 
Pricing begins at $600.00.  These are just a sample of the unbelievable selection available every day at Joden Jewelers.  This holiday season, let our experts help you find the perfect gift for every name on your list.  
"You can go to our site and look, then come to Joden and touch."
Written by Carrie Martin
Photos by Carrie Martin and Shelly Isacco
Holiday Hours: December 14th-22nd.  We will be open until 8pm for your shopping convenience.