Joden Girl
Baubles, Bling and the Latest Things
Everything is coming up roses.  Four of them to be precise – spaced at even intervals around the circumference of this 12.5 mm band.  Made from a delectable combination of yellow, green and rose gold – this wonderfully wide ring is SO good.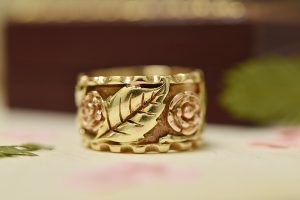 I'm a sucker for the classic beauty of a wide gold band…  amp it up with a floral theme and I'm a goner.  Personifying the perfect trifecta of gold, this band showcases a yellow gold base decorated by rose gold flowers and green gold leaves.  The botanical motif raises off the surface with dimensional appeal.  Every leaf and petal is silky smooth to the touch, making it a dream to wear.
The softly scalloped edge finishes the ring exquisitely – complementing both the curve of each rose petal as well as the diagonal arch of each leaf.  These details are plain to see, while my most favorite part is not.  I'm dubbing it a stroke of luck…  at the juncture where each blossom adheres to the band, there is mark on the interior of the ring.  
To me, they look like the phases of the moon…  especially the very last one.  It's the classic representation of a crescent moon face.  Under magnification, I can see the gaps between the band and the flowers.  These markings are nothing more than a fluke or perhaps a bit of serendipity combined with my own imagination.  These little details are the very soul of vintage jewelry; engraved sentiments, decades or even centuries of patina and markings left by the maker whether intentional or accidental – taking a piece of jewelry from ordinary to extraordinary.  
Measuring approximately a size 7.25, this band cannot be sized.  Beautiful on any finger, it's like the fairy tale story of Cinderella and the glass slipper.  This magical ring is destined for a perfect fit.  If you're lucky enough to be able to wear it, it's available on our site now for just $1100.00.
"You can go to a museum and look, or come to us and touch."
Written by Carrie Martin
Photos by Dana Jerpe