Joden Girl
Baubles, Bling and  A Collector's Things
The treasures at Joden are seemingly endless.  Our showcases are overflowing with the finest antique, estate and modern jewelry.  From Victorian vignettes to Art Deco dazzlers – our collection is truly something to behold.  What you may not know is that not every gem is on display.  Some lucky guests have received a private showing in Joe's office.  There, nestled into the golden oak cabinetry, tucked between endless volumes of Sotheby's and Christie's catalogs are the crème de la crème; an assemblage of the rarest jewels suitable for even the most seasoned connoisseurs and private collectors.  
This feast for the eyes is just one such opulent piece.  Made around 1890, this combination brooch/pendant is ablaze with color.  Fiery tones of red and orange enamel pair with gem fine emeralds in the boldest green hue.  Handmade 18 karat yellow gold and silver settings cradle each of the five emeralds as well as fifty-six old cut diamonds.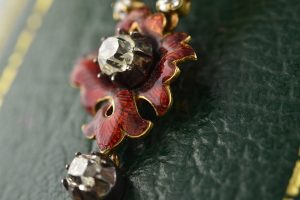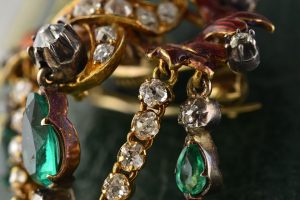 These vibrant verdant emeralds have a total weight of 4.65 carats, the largest being a pear-shape stone that weighs 3.00 carats alone.  Mere words or photos cannot adequately describe the vivid color displayed by each bright and beautiful gem.  Interspersed between these pops of emerald and the crimson-enameled leaves are sparkling diamonds, over 2.25 carats of glittering beauty.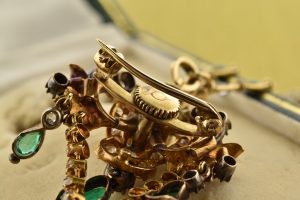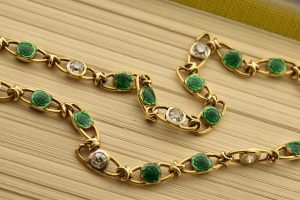 A secondary level of genius in this piece is the removable pin stem.  An intricately threaded pin can be unscrewed, effectively extracting the pin mechanism and allowing the pendant to lay flush with the skin.  An 18 karat yellow gold enameled chain accompanies the pendant – it's the ideal complement featuring the same bright green hue but done in enamel instead of gemstones.  And although it's a perfect pairing – it's most likely not original to the piece.  
The fitted leather box is also not original, but rather made by another famed collector, D.S. Lavender Antiques of London.  The rich green leather exterior is striking against the creamy velvet interior.  Known for acquiring and selling the very best – he was proud to add his name to the lid of the fitted case.  From one famed collector to another, this is truly a piece of luxury jewelry… appropriately priced at $45,000.
For additional details and extravagant elegance, call us at 800-747-7552.  
Written by Carrie Martin
Photos by Dana Jerpe