Joden Girl
Baubles, Bling and Genius Things
In the mid-1920's – the heart of the Art Deco era – a groundbreaking technique paved the way for an entirely new look that would take the jewelry world by storm for decades yet to come.  Highly skilled lapidaries used diamond powder coated saw blades to hand cut an extremely precise groove in the edge of square or angular-shaped gemstones.  These expertly hewn stones would slide on gold or platinum rails, setting them edge to edge in a seamless fashion.  This new wonder was referred to as invisible setting.
Unlike traditional setting which most often involved a precious metal prong being bent over the top of a stone, this fresh approach completely concealed the mechanical aspect.  The effect on the eye was quite dazzling, presenting a ribbon-like appearance.  
Van Cleef & Arpels were early pioneers of this innovative invention – they dubbed it "serti mysterieux".  The artform was incredibly labor intensive and exceedingly expensive.  Only the finest stones were used; unfortunately, many were damaged during the cutting process.  It was common for an important piece to take months to create. Cartier and Aletto Brothers came to the party a bit later but were no less successful.  Each of these designers believed that invisible setting was a process about quality, not quantity.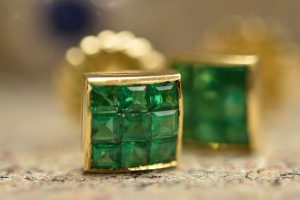 Now, due to developments in technology, invisible setting is more mainstream.  It has made a comeback – this beautiful style is more affordable and readily available for those who know where to look.  These square stud earrings are made from 18 karat yellow gold.  Each one is meticulously set with nine square-cut emeralds.  The eighteen gems have a combined weight of 1.00 carat.  Bright green in color and well-matched, these emerald beauties are available for just $975 – a BIG look for under $1000.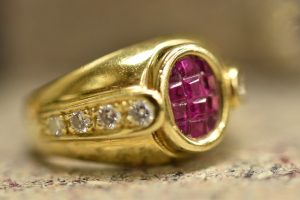 Here's another 18 karat yellow gold stunner.  This bold unisex ring features an oval-shaped center section.  Set with twelve cherry red rubies that have a total weight of .50 carat – this ring would work equally well for a man or woman.  Adding a bit of sparkle to the shoulders of the ring are eight round brilliant diamonds weighing .16 carat.  This ring was originally priced at $1,650.00 but is available now for just $975.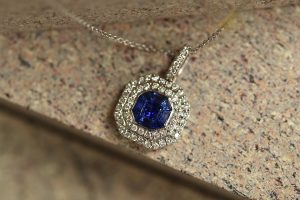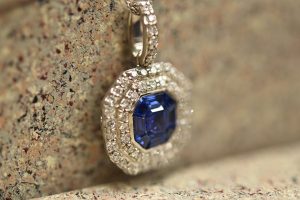 Get an eyeful of this unique sapphire pendant.  Featuring a double-halo of diamonds that have a total weight of .40 carat – this modern marvel highlights an octagonal-shaped sapphire center.  Comprised of nine specialty cut stones, these sapphires weigh .56 carat.  Priced at $1,750.00, this pendant is perfect for daily wear.  
Ruby, emerald, sapphire and diamond.  Perhaps you thought that these four precious gemstones were out of reach.  Not anymore!  Add luscious color and impeccable style to your wardrobe with a gift from Joden.  
"You can go to a museum and look, or come to us and touch."
Written by Carrie Martin
Photos by Dana Jerpe