Joden Girl
Baubles, Bling, and A Collector's Things
The pieces in Joe's Special Box never cease to amaze me.  It's an eclectic collection of vintage Victorian, Art Deco stunners, Giuliano treasures with a little bit of modern thrown in.  I'm not a pearl girl, but this ring makes my heart go pitter-pat.  It's the pure simplicity of it.  Designed by Paloma Picasso for Tiffany and Co. in 1984, this mabé pearl ring is a refined beauty.
Daughter of famous painter Pablo Picasso, Paloma is an award-winning artist in her own rite.  She has been creating audacious styles for Tiffany since 1980.  Paloma says she is inspired by her travels.  She is best known for her use of whimsical shapes and bold patterns.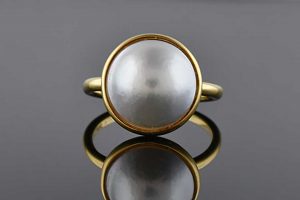 Fashioned early in her career from a buttery 18 karat yellow gold and featuring a bright white mabé pearl center, this Tiffany piece doesn't disappoint.  No additional ornamentation is needed – the classic style speaks for itself. Priced right at just $900, this ring is available now in our showroom. 
"You can go to a museum and look, or come to us and touch."
Written by Carrie Martin
Photos by Dana Jerpe